Top 5 Free or Affordable SQL Reporting and Dashboard Tools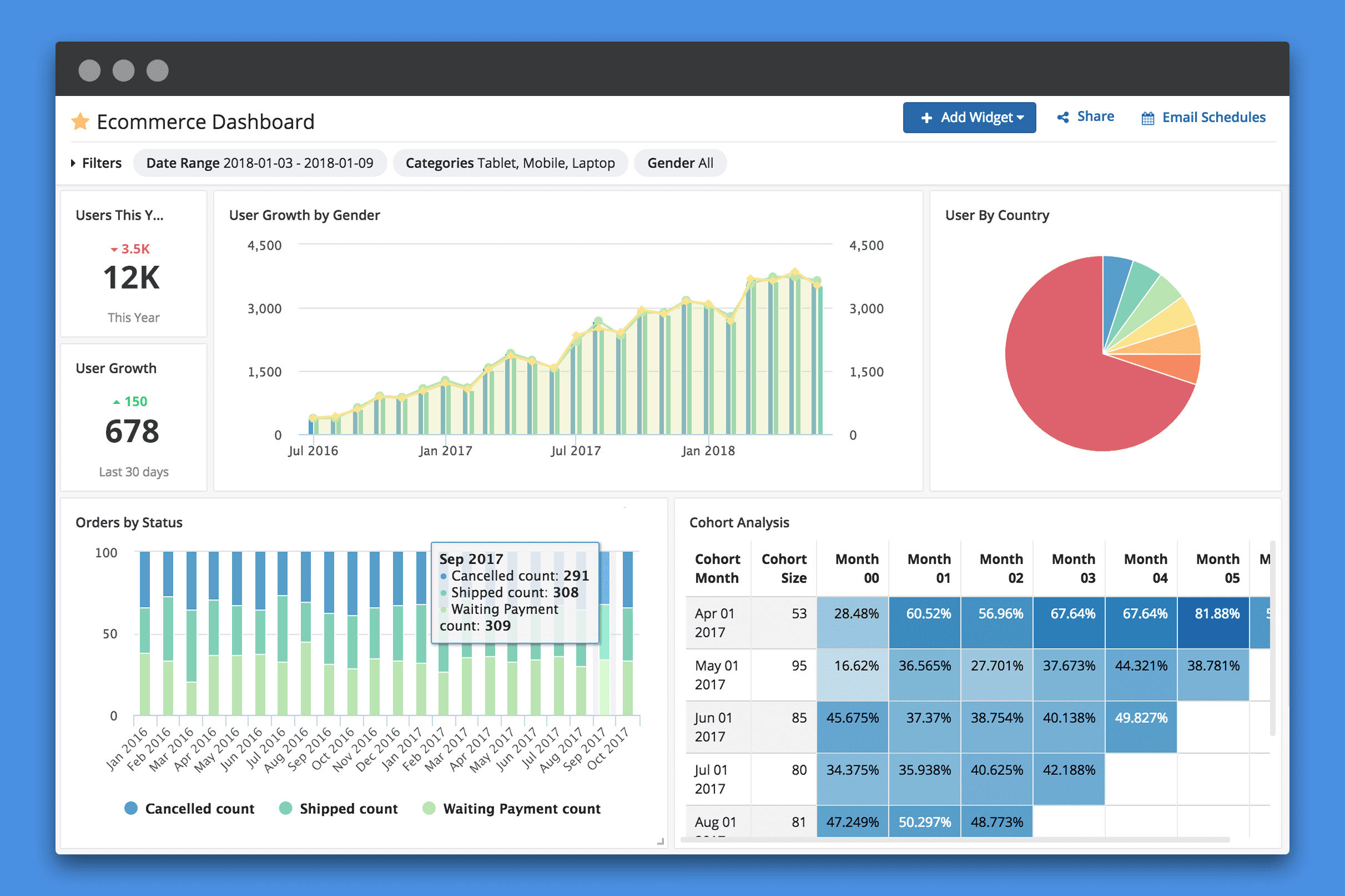 Your startup needs analytics! From Product, Marketing to Finance, Sales... analytics helps you build your startups on better decisions.
Most of the time, you will just know when your startup needs a Reporting and Dashboard tool for business intelligence (BI). However, choosing a cost-effective BI solution is challenging, as a lot of powerful BI tools out there are not startup friendly. $1000+ analytics platforms wouldn't make any sense for your startup at the early stages.
To help you determine not only affordable but also scalable SQL reporting tools for your business, we've curated a list of 5 of the best affordable online tools to do it.
Affordable SQL Reporting & Dashboard Tools
Pricing: Free plan, with paid plans range from $50-$500/month
Holistics is a BI platform that empowers analysts with SQL to build a data warehouse and automated reporting routines that deliver data to everyone. With Holistics, not only data analysts become heroes, but any non-technical users can also get insights themselves with Holistics' strong self-service analytics features.
Pros
Can process ETL and varied integrations (Import Data from Google Spreadsheets, CSVs, MongoDB, Google Ads, PipeDrive, PostgreSQL, MySQL, Python...)
Drag-and-Drop interface for Non-Technical Users
Great support team
Powerful Delivery capabilities: Email/Slack/Google Sheets Schedule and Alerts, Shareable Links, Embedded Analytics
Advanced SQL Editor: Version History, Autocomplete, SQL Snippet, Highlighting, Auto-formatting, Query History, Custom Advanced Logic...
Unique data modeling for scalable organizations
Flexible and scalable pricing for both startups and enterprises
Cons
Young product, sometimes has bugs
Drilldown feature is not fully implemented
There are some features still in progress (PDF Dashboard,...)
Strong permission control but complicated for small companies
Pricing: Free
Metabase is the easy, open source BI tool for everyone in your company to ask questions and learn from data.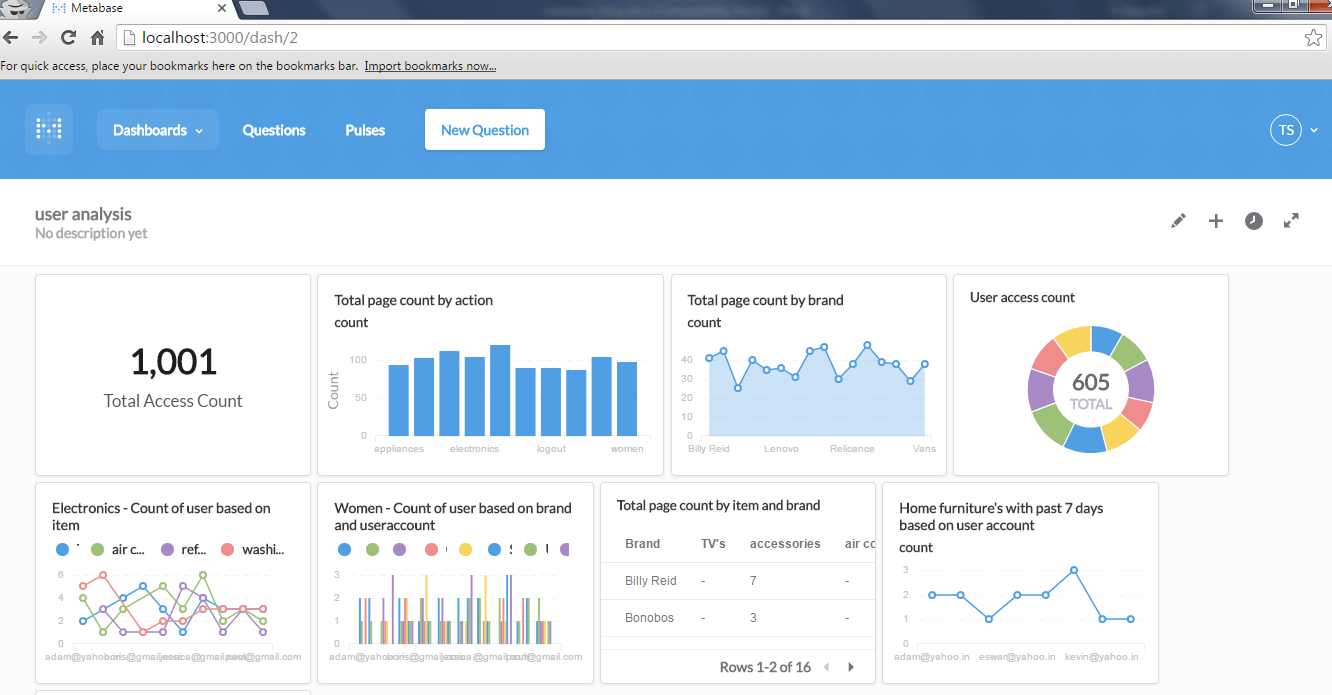 Pros
Open Source
Simple, Neat UI
Free
Light weight
Allow non-tech users to query from data
Cons
You have to setup on your own server and need to mantain the infrastructure
Limited Integrations
Limited variety of charts and settings
Weak permission control
Pricing: Community version
Mode is a web-based SQL data analysis platform that brings SQL, Python and R together to help your team analyze, visualize and share data.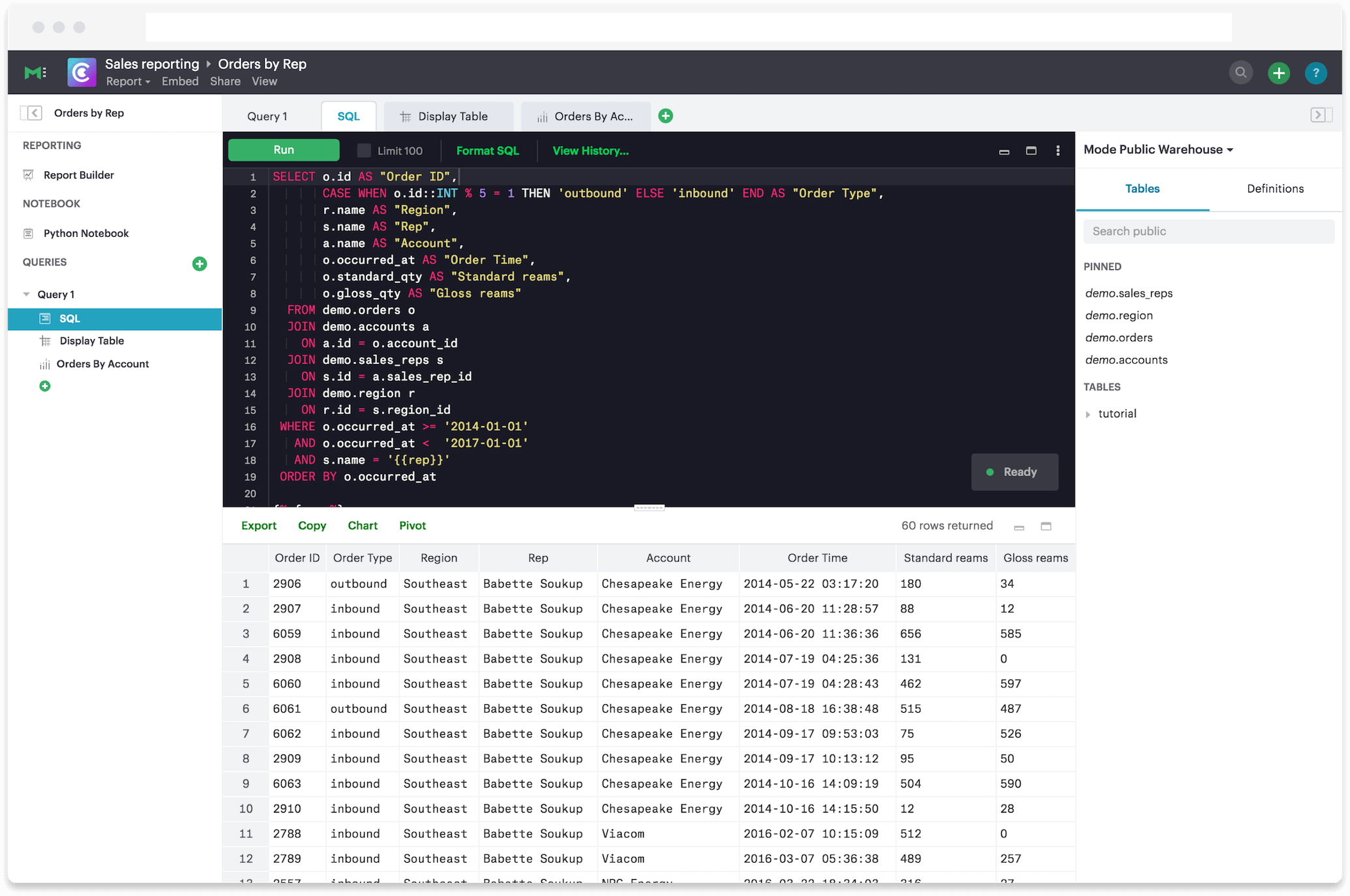 Pros
Advanced SQL Editor: Autocomplete, Highlighting, Query History...
Python, R Integrations
Customizable HTML Notebooks
Shareable Links
Online SQL Course
Cons
Limited in visualizations and sources
Limited in access control
Business users can't get insight by themselves
No data modeling layer
Pricing: Starting at $49/Month
Redash helps provides companies tools to democratize data access. Connect to any data source, easily visualize and share your data.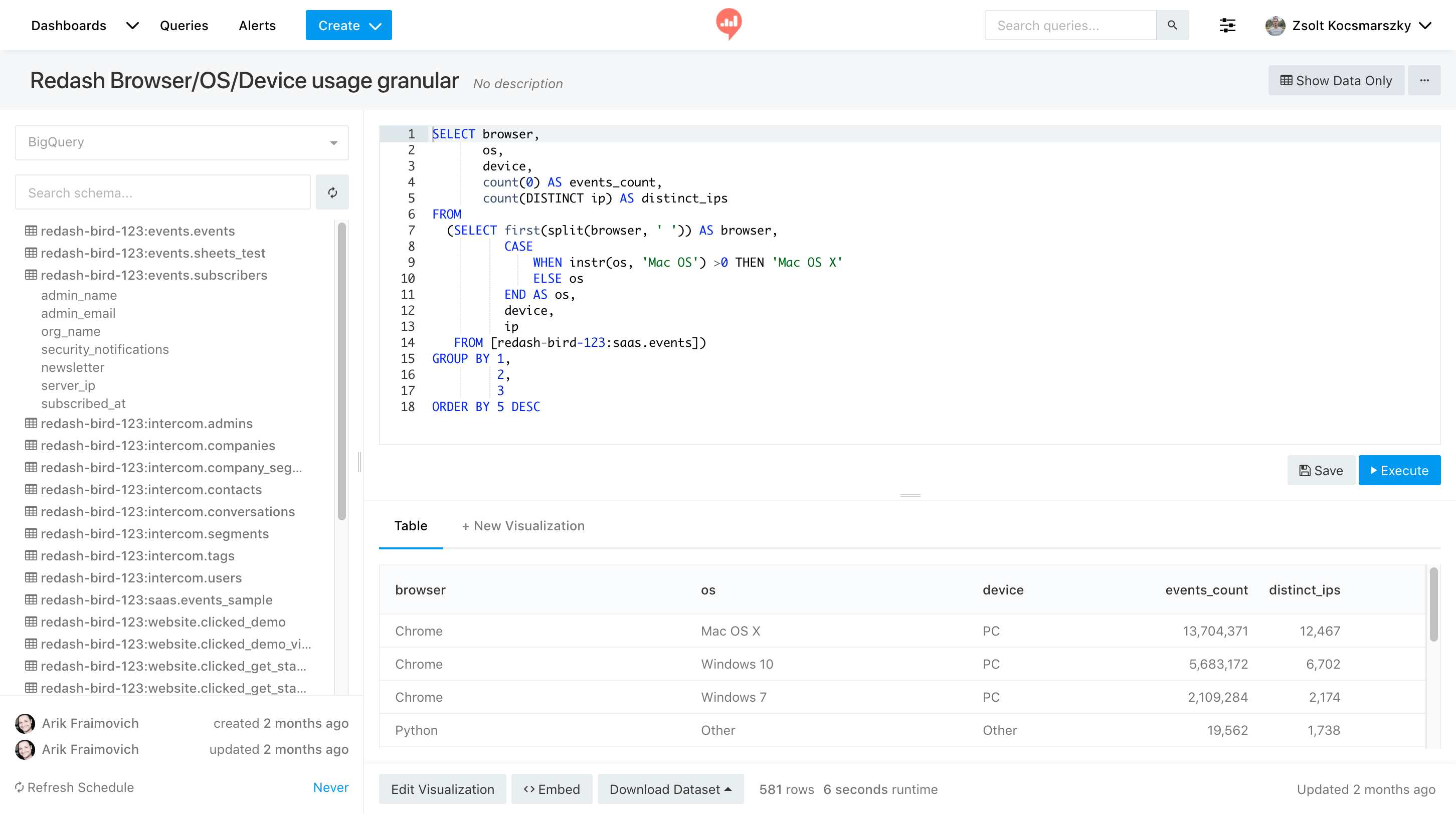 Pros
Simple
Good query editor: Highlighting and SQL Snippets
Has open source version
Zapier integration
Supports 30+ data sources
Cons
UI doesn't allow non-tech users to explore, everything needs to be written in SQL
The dashboard and visualization features are not advanced
No way to email daily / weekly reports to clients or team members
No data modeling layer
Pricing: Free and Starting at €99/month
Cluvio is a data analytics platform that lets you run SQL queries against your database, process data in R, visualize the results and create beautiful, interactive dashboards.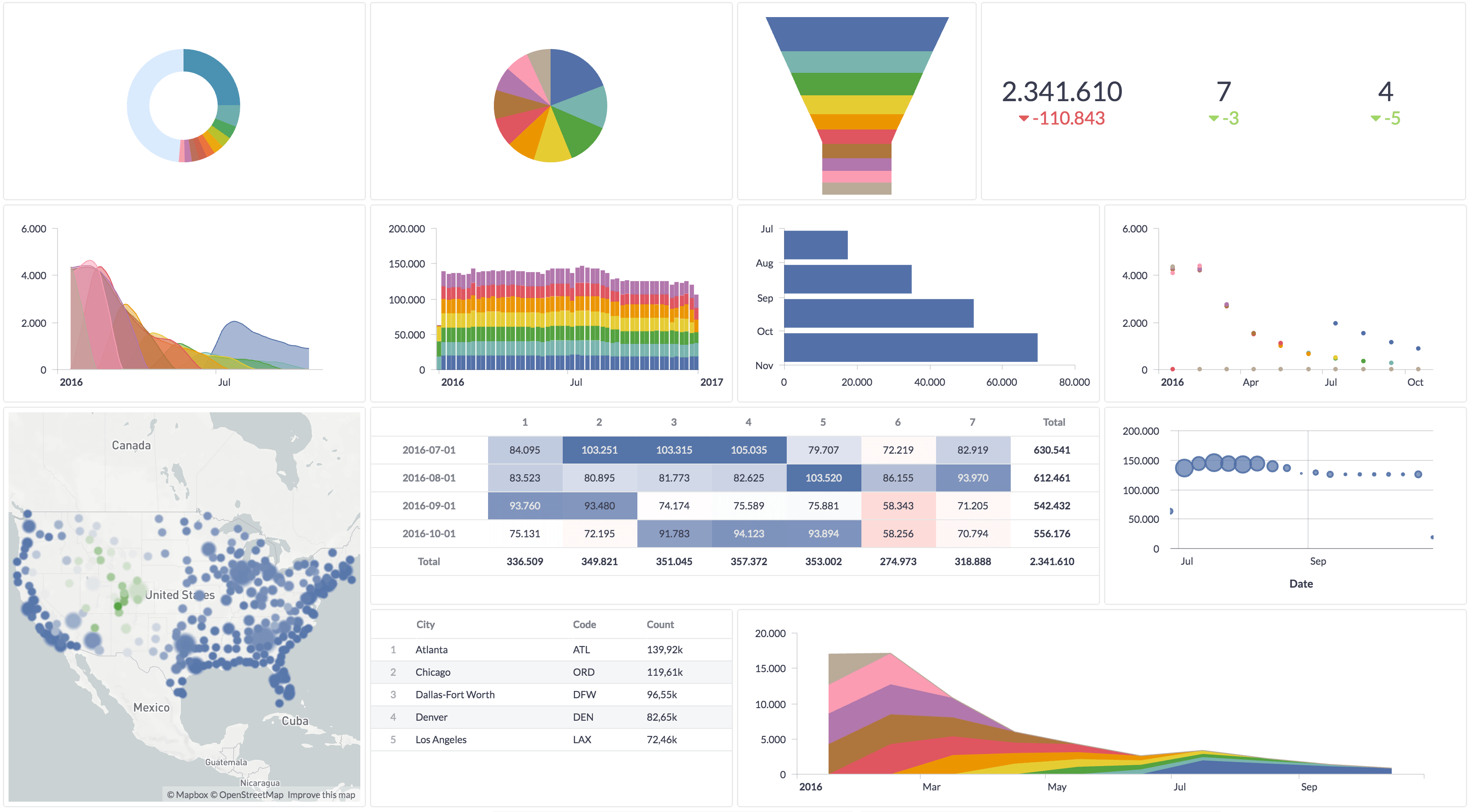 Pros
Support R
Good SQL editor: Highlighting, autocomplete, SQL snippets...
Support Embedded Analytics
SQL Alerts
Cons
Limited in visualizations
No data modeling layer
UI doesn't allow non-tech users to explore
Sign up for our BI newsletter
Insights from practitioners around the globe.
In your inbox. Every week.
No spam, ever. We respect your email privacy. Unsubscribe anytime.
From SQL Queries To Beautiful Charts
Connect to your database and build beautiful charts with Holistics BI
Learn More
"Holistics is the solution to the increasingly many and complex data requests from the operational teams"
---
Tang Yee Jie
Senior Data Analyst, Grab