Top 5 Free or Affordable SQL Reporting and Dashboard Tools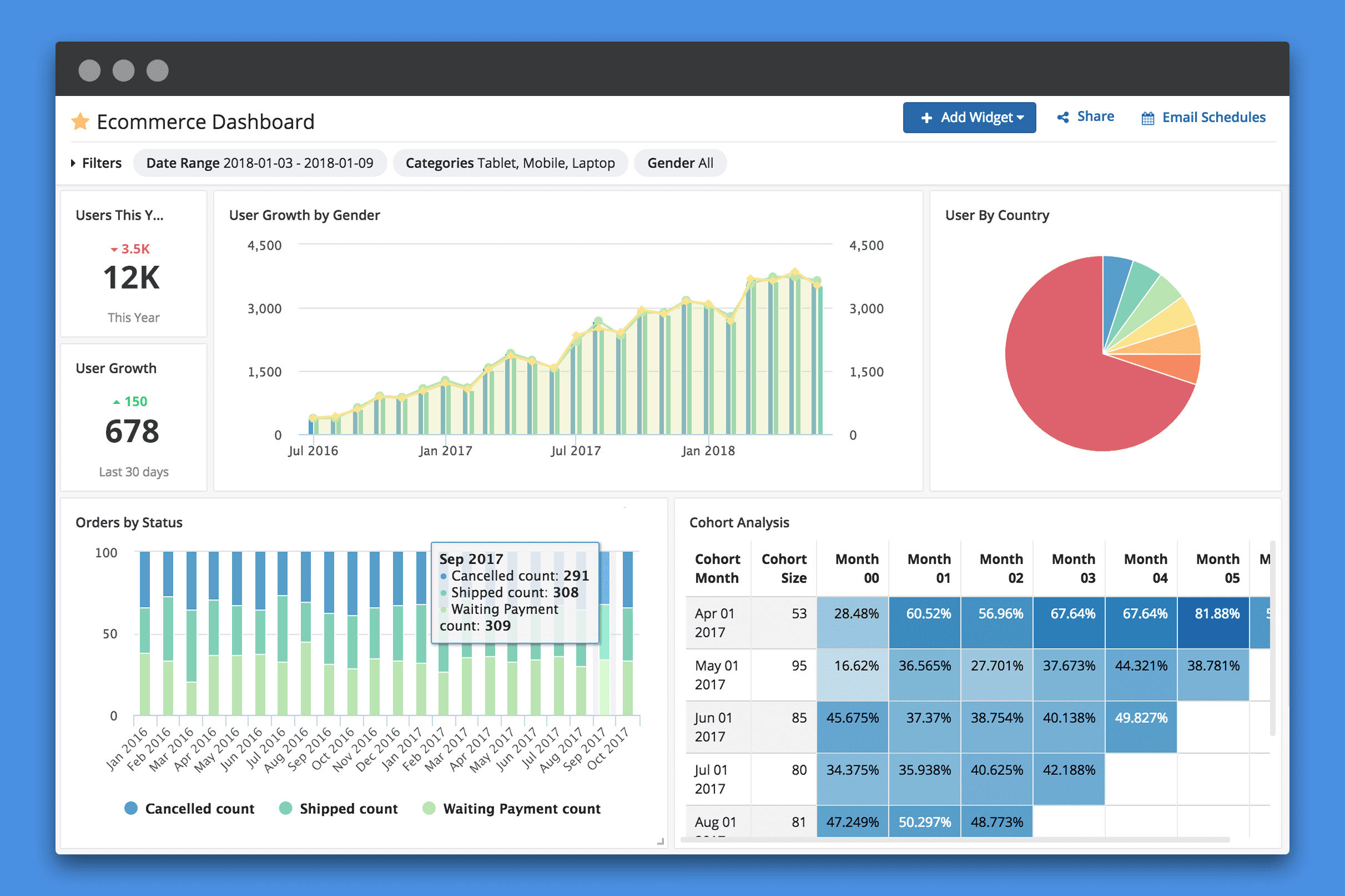 Your startup needs analytics! From Product and Marketing to Finance and Sales... analytics helps you build your startups on data-driven decisions.
For early-stage startups, choosing a cost-effective BI solution is challenging, as a lot of powerful BI tools out there are not startup-friendly because most starts at $1000/month. This will break your bank.
To help you determine which SQL reporting tools are suitable for you, we didn't just look at the price, but also the ease of maintenance and scalability. Here is a list of top free or affordable SQL reporting and dashboards tools for your startups.
Top 5 Free or Affordable SQL Reporting Tools
Pricing: Paid plans, range from $100-$500/month
Holistics is a self-service BI platform that empowers business users to create their own charts without writing SQL or going to the technical team. With Holistics, data teams define business metrics, datasets and reports for business users. Business users can consume the predefined reports, or build their own reports with simple, visual report builders.
Pros
100% cloud, can access from anywhere in the world
Drag-and-Drop interface for Non-Technical Users
Great support team
Powerful delivery capabilities: Email/Slack/Google Sheets Schedule and Alerts, Shareable Links, Embedded Analytics
Advanced SQL Editor: Version History, Autocomplete, SQL Snippet, Highlighting, Auto-formatting, Query History, Custom Advanced Logic...
Unique data modelling for scalable organizations
Flexible and scalable pricing for both startups and enterprises
Analytics As-code: applying software engineering best practices to analytics workflow, with dbt integration and Git version control
Cons
Young product, sometimes has bugs.
Lacking enterprise-grade features
Strong permission control but complicated for small companies
Check out how Holistics work or sign up for a free 14-day trial! No credit card is required.
Related reading: BI Tools Comparison Matrix: A Holistic Collection (Updated)
Pricing: Free (on-premise), $85/month or $749/month (cloud)
Metabase is the easy, open-source BI tool for everyone in your company to ask questions and learn from data. Available in both cloud and on-premise versions.
Pros
Open Source
Simple, Neat UI
Free
Lightweight
Allow non-tech users to query from data
Cons
Don't allow multiple data sources
Limited integrations
Limited variety of charts and settings
Weak permission control
Pricing: Free plan available (but with limited features), paid plans starts at $800/month.
Mode is a web-based SQL data analysis platform that brings SQL, Python and R together to help your team analyze, visualize and share data.
Pros
Advanced SQL Editor: Autocomplete, Highlighting, Query History...
Python, R Integrations
Customizable HTML Notebooks
Shareable Links
Online SQL Course
Cons
Limited in visualizations and sources
Limited in access control
Business users can't get insight by themselves
No data modelling layer
Pricing: Free (self-hosted)
Redash helps provides companies tools to democratize data access. Connect to any data source, easily visualize and share your data. Redash got acquired by Databricks in 2020, and they're shutting down the hosted Redash service, effective November 30, 2021.
Pros
Simple
Good query editor: Highlighting and SQL Snippets
Has open source version
Zapier integration
Supports 30+ data sources
Cons
No cloud version, need to self-host.
UI doesn't allow non-tech users to explore, everything needs to be written in SQL
The dashboard and visualization features are not advanced
No way to email daily / weekly reports to clients or team members
No data modeling layer
Pricing: Free version available, and paid plans are starting at $279/month
Cluvio is a data analytics platform that lets you run SQL queries against your database, process data in R, visualize the results and create beautiful, interactive dashboards.
Pros
Support R
Good SQL editor: Highlighting, autocomplete, SQL snippets...
Support Embedded Analytics
SQL Alerts
Cons
Limited in visualizations
No data modeling layer
UI doesn't allow non-tech users to explore
Conclusion
For early-stage companies, cost is an important factor when considering the tools. Cost is not just in terms of the price of the BI tool, you've to consider the cost of setting up and the cost of using engineering resources to maintain the charts and dashboards too.
Holistics is a good starting point for your analytics stack, as it won't break your bank. It also gives you the flexibility to mold it to your workflows and scale your  reporting, no matter which stage of data maturity your company is at. Most importantly, Holistics is stakeholder-friendly. Unlike Mode, Redash and Cluvio, where users have to learn SQL to generate charts. With Holistics, you can set things up very quickly and save time. Check out how Holistics work or sign up for a free 14-day trial! No credit card is required.
If you want a self-hosted tool, Metabase or Redash is for you.
If your users are technical enough to write code and generate charts, tools like Mode, Redash and Cluvio are good options.
What's happening in the BI world?
Join 15k+ people to get insights from BI practitioners around the globe. In your inbox. Every week. Learn more
No spam, ever. We respect your email privacy. Unsubscribe anytime.
Confused about the complex analytics landscape?
Check out this book to bring yourself up to speed on the ins-and-outs of a contemporary analytics stack.
Download Book
"I'm shocked to be telling you this next sentence: I read a free ebook from a company and actually loved it." - Data Engineer