Looker VS Power BI: An Unbiased Comparison & Review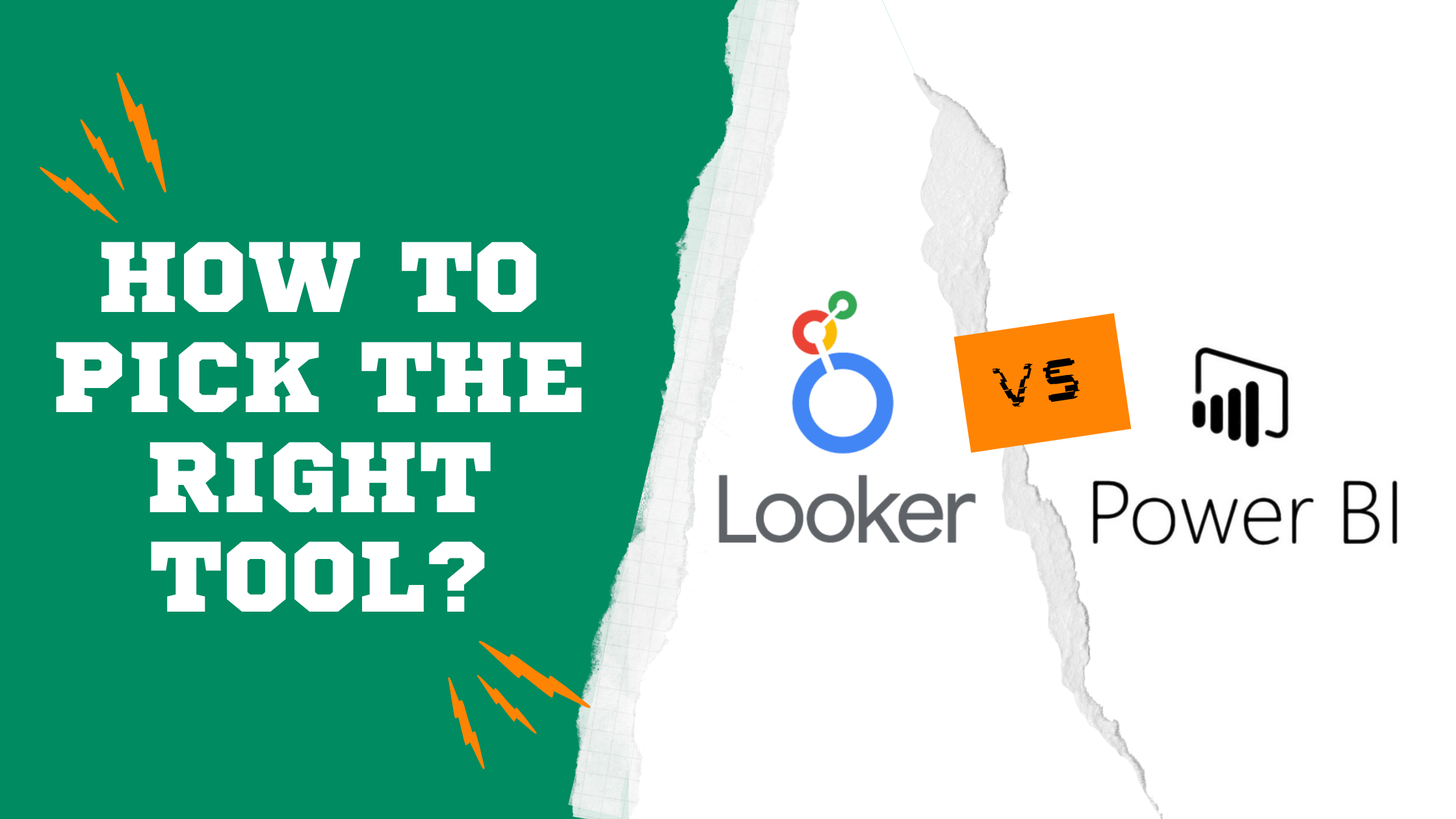 Picking the right business intelligence (BI) or data visualization tool can be challenging especially when there are many platforms in the market offering similar features and capabilities. However, the process of selecting the right BI platform can be easier when you analyze some key features and see how those features can fulfill the organization's data objectives.
In this article we're going to compare Looker vs Power BI by analyzing the following features for each platform: Hosting & deployment, pricing, data source integration, data modeling, predictive analytics and data governance.
After reading this article, you will have a fairly good understanding of differences and similarities that Looker and Power BI have and this should help you make a more informed decision when planning your business intelligence strategy.
Before you decide on any BI tool, you should be aware of all your options. Here are a few other comparison posts on Looker that we've written to help you make a decision:
Looker vs Power BI: Summary Comparison Table
The table below summarize the features comparison between Power BI and Looker.
1) Hosting & Deployment
Deployment is one of the key elements when comparing Looker vs Power BI. Looker is a browser-based BI tool that is fully hosted by Looker. This means that users do not require to go through the installation, configuration and maintenance of Looker application. That being said, users still have the option to host Looker instances on their own server.
Power BI hosting is quite different from Looker. There are 3 main options to consider:
Power BI Service: This solution runs on cloud and provides fully hosted reporting.
Power BI Report Server: This solution is for users with stricter security requirements as it allows you to host Power BI on your own server.
Power BI Embedded: This option is part of the Power BI service and it allows you to use API to embed reports within various applications.
2) Looker vs Power BI: Pricing & Cost
Looker is generally an expensive solution. It's designed for enterprises with advanced data requirements and use cases. The cost of Looker will be somewhere between USD3000 to 5000 per month for 10 users. This is just an estimate as Looker offers tailored pricing based on organization's requirements.
Power BI pricing is much more affordable than Looker. There are three main options to consider here:
Power BI Pro: License individual users with modern, self-service analytics to visualize data with live dashboards and reports, and share insights across your organization. This option costs USD 9.99 per user per month.
Power BI Premium per User: License individual users to accelerate access to insights with advanced AI, unlock self-service data prep for big data, and simplify data management and access at enterprise scale. This option costs you USD 20 per user per month.
Power BI Premium per Capacity: This option is similar to the Power BI Premium per user but in this option you have no user limitation. This option costs you USD 4,995 per month and is suitable for organizations that have many Power BI users.
3) Looker vs Power BI: Querying
Power BI comes with a natural language query tool which lets you to explore data in your own words using natural language. For example, you can put in questions like "What is our best channels for generating quality leads?" get answers to this.
Power BI query tool is free and available to all users. In Power BI Desktop, report designers can use query tool to explore and create data visualizations.
Looker, on the other hand, equips user with LookML - a language for describing dimensions, aggregates, calculations, and data relationships in a SQL database. LookML is unique in its own way as it fosters better team collaboration, and there are only a very few alternatives to LookML in the market.
4) Looker vs Power BI: Data Source Integration
Looker is a SQL-based BI platform. This means that your data must be stored in a SQL database and then connected to Looker. There are currently more than 50 databases supported by Looker including Google BigQuery, Amazon Redshift and Snowflake.
Power BI, on the other hand, does not necessarily require users to have a SQL database for it to ingest data. There are more than 70 connectors supported by Power BI such as Jason, PDF, Google Analytics, Adobe Analytics and Excel.
5) Looker vs Power BI: Data Modeling
When it comes to data modeling, Looker offers a wide range of capabilities using its own language called LookML. With LookML, data analysts can define relationships between various tables and sources as well as creating custom calculations and dimensions based on the business requirements.
Similar to Looker, Microsoft Power BI has its own data modeling language and it's called Data Analysis Expression (DAX). Using DAX, you can define relationships and create calculated columns and measures.
6) Looker vs Power BI: Predictive Analytics
Predictive analytics is considered an advanced data use case as it needs a certain level of data maturity to be executed effectively.
In Looker, users can find and install a machine learning model from the Looker marketplace for various use cases such as classification, regression, and time series forecasting models, among others. Once the ML model is applied and result is produced, users then can use the data to create relative tables or charts and export to other platforms such as Google Analytics for data activation.
With Microsoft Power BI you can run various predictive analysis too. Power BI is part of the Azure ecosystem and this enables users to run their custom ML models using languages such as R and Python and then apply custom visualizations to the results.
7) Looker vs Power BI: Data Governance
Data governance has become an important topic for all the enterprises as concerns over data storage, data control and data privacy have risen significantly over the past few years. Both Looker and Power BI have firm measures in place to ensure data is protected and managed in the most effective way. Below we will examine Looker and Power BI approach to data governance in more details:
7.1 Looker's Data Governance
Looker's approach to data governance expands across 4 main areas:
Cloud Security: Looker uses established public cloud hosting providers to augment Looker's security program with additional security and availability operational controls.
Cloud security has three main pillars in Looker's data governance:
1. Cloud infrastructure
2. Monitoring and authentication
3. Data security encryption
Product Security: Looker ensures that the code quality for the Looker application is developed according to industry-wide best practices for software development, and is regularly tested for vulnerabilities. Product security covers various dimensions including:
1. Code development
2. Code quality tests
3. Security due diligence of third-party service providers
4. Regular third-party penetration testing
Corporate Security: Looker ensures that Looker's ancillary applications, systems, and networks are securely configured and monitored. Corporate security in Looker has 3 parts:
1. Personnel and third-parties
2. Incident response
3. Looker premises and hardware
Physical Security: Looker is responsible for monitoring the Looker corporate facilities, and ensuring that offices and hardware are both protected.
7.2 Power BI's Data Governance
Power BI is built on Microsoft cloud computing infrastructure and platform called Azure.
Microsoft Power BI data governance has generally 4 main areas:
Data Storage Security: Power BI has two main repositories for storing and managing data: Azure Blob Storage, and  Azure SQL Database. A gateway role (handled by Azure API Management) manages all the user roles and authentications.
User Authentication: Power BI uses Azure Active Directory (AAD) to authenticate users who sign in to the Power BI service, and in turn, uses the Power BI login credentials whenever a user attempts to access resources that require authentication.
Data and Service Security: As mentioned above, data and service security in Power BI is managed by AAD and it covers Security, privacy and compliance.
Enforcing TLS version usage: Network and IT administrators can enforce the requirement to use current TLS (Transport Layer Security) for any secured communication on their network.
Conclusion
According to the factors discussed in this article, we can agree that both Power BI and Looker are capable business intelligence tools that offer various features including data modeling and predictive analytics. Ultimately choosing the right self-service BI tool boils down to the specific needs and use cases of the organization and the best way to determine if a BI tool fits your requirements is to get your hands dirty and test the platform out in action and then evaluate its performance before making your final decision.
Alternatively, if you're looking for a self-service BI tool, you might want to check out Holistics, an alternative to Looker. You can start a free 14-day trial with Holistics! No credit card is required.


What's happening in the BI world?
Join 15k+ people to get insights from BI practitioners around the globe. In your inbox. Every week. Learn more
No spam, ever. We respect your email privacy. Unsubscribe anytime.
Confused about the complex analytics landscape?
Check out this book to bring yourself up to speed on the ins-and-outs of a contemporary analytics stack.
Download Book
"I'm shocked to be telling you this next sentence: I read a free ebook from a company and actually loved it." - Data Engineer