Holistics Crash Course: Automated Data Reporting (Email & Slack Schedules)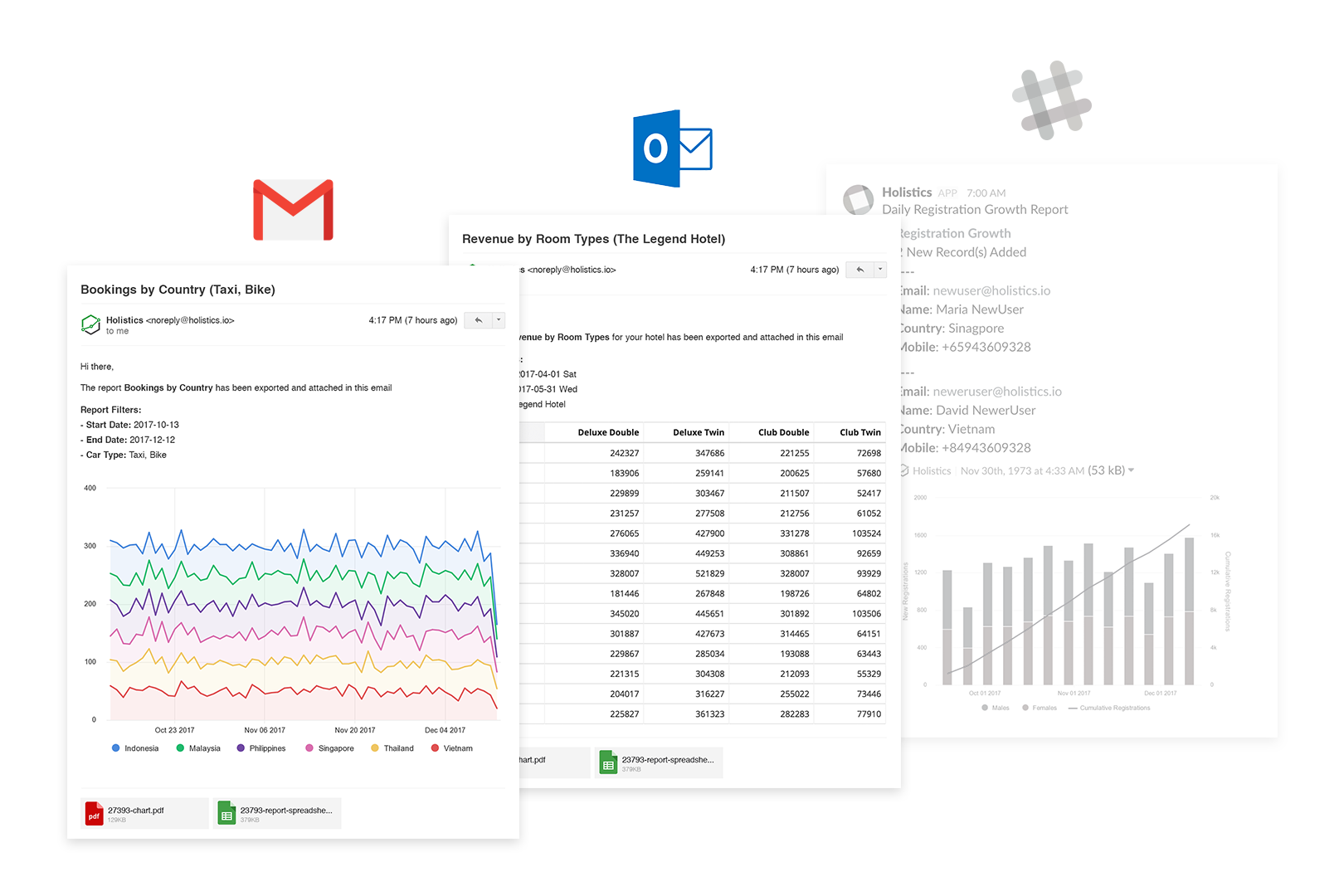 A big thank you for being part of our July webinar on Automating Reporting Process! Here's a quick recap of the examples we covered and the questions you asked.
We also have a special promo code running till the end of August 2018 for our webinar participants! Simply key in "web-auto" in lowercase while signing up for a trial, and you will get an extra week for your trial account, free!
Automating Delivery & Data Reporting
Have you found yourself having to repeatedly compile spreadsheets and prepare reports to be sent over email to your team? Find out how to automate this process in a simple way in our webinar, Holistics Crash Course #3: Automated Data Reporting!
Scheduling data reporting for the delivery of data insights and datasets from your applications and database is simple with Holistics. Now you can automate your reporting process and the sharing of charts and dashboards, to let your team, customers and partners, work independently and effectively with data.
Webinar examples:
Example 1: Scheduling reports and dasbhoards to be sent by email and Slack. [7:00]
Scenario: Your management is based overseas and would like a daily performance report in their inbox, and your sales team that is spread across the region needs a sales performance chart for their daily stand-up call over Slack.

Example 2: Emailing reports out to separate customers and partners, with password protection of data files. [15:46]
Scenario: You run a marketing agency with reports for different customers, and you need to make sure it is delivered on time every Monday.

Example 3: Automated imports of data into a database, for scheduled report delivery out to receipients (Advanced). [21:35]
Scenario: Different department in different countries use the same spreadsheet format to update data, and the process to merge the sheets takes away one day each week. Automating the import merge and report schedule would be awesome!
Here are some questions asked by you:
Q1: How does Holistics help with data preparation and data extracts, transforms, and loading (ETL)?
A: Holistics lets you automate your data engineering tasks without coding, using our Data Imports feature to extract and load data into your database, and Data Transforms to help optimize your reporting by running transformations and scheduling queries to store datasets as tables, inside your reporting database.
Q2: What data sources do you support?
A: We support many data sources, such as most major SQL and big data databases (i.e. PostgreSQL, MySQL, Redshift, Big Query etc.), Google Sheets, Google Drive Folders, CSV files, Facebook Ads data, Pipedrive data and more! We are also willing to support new data source integrations upon request.
Q3: Can we set the email sender to be from another email address instead of "Holistics" and what happens if the email schedule fails?
A: This can be configured under the settings of the email schedules. Tenants can set the sender address to be from their own emails, and they can also add who should be notified if an email schedule fails by adding addresses to the failed email notification settings.
Q4: How can we add new customers to a customer filter automatically?
A: You can either write a custom SQL query or input the database table details, which will retrieve the latest data values from your database, to display in your shared/adhoc filter.
Webinar Details
Session Agenda: Tuesday, July 31st 2018, 9.30AM GMT+8 (Singapore) (Past event)
5 mins: General update and quick sharing
30 mins: Scheduled report delivery how-to and use-cases
10 mins: Q&A + Next webinar use-case
Content outline:
Email and Slack report scheduling
Automated import of data and report delivery, from a database (Advanced)
Feature Walkthrough
Holistics' scheduled delivery system lets you send your automated reports right on time, on your chosen frequency!
Automated Email Schedules
Automated Slack Schedules
References:
What's happening in the BI world?
Join 15k+ people to get insights from BI practitioners around the globe. In your inbox. Every week. Learn more
No spam, ever. We respect your email privacy. Unsubscribe anytime.
Confused about the complex analytics landscape?
Check out this book to bring yourself up to speed on the ins-and-outs of a contemporary analytics stack.
Download Book
"I'm shocked to be telling you this next sentence: I read a free ebook from a company and actually loved it." - Data Engineer