Embedded Analytics: 09 Tools, Use Cases and How To Find Them
Let's start with a real-life use case - from one of Holistics's favorite customers. Let's call them Z.

In this article, we'll delve into how Z company solved their embedded analytics problems, and their experience with embedded BI solutions, and from then we will extrapolate what a good embedded analytics tool looks like - while trying to be as objective as we can be.
About Z
(Of course, Z is not a real name - it's made up for the sake of anonymity)
Z is a data consultancy company - their clients are mostly manufacturing or retail companies that might lack analytics capabilities to produce insights (or to produce insights fast enough), so they come to Z.
Z's analytics team then works with the provided data, and share the results of their analysis with the clients, in the form of embedded dashboards.
Embedded Analytics Challenges
Let's talk about the challenges Z faced when developing embedded dashboards for their clients. Though these are challenges posed upon Z's data team - they might be common and universal to most teams with embedded use cases.
Long Turnaround Time
To land a client, or alternatively - to get your internal data consumers be more confident with analytics, you need to be fast, you need to prove the value of data and of your analytics team as soon as possible. You must be able to create embedded dashboards and ship them to business stakeholders in matter of days, not weeks or months.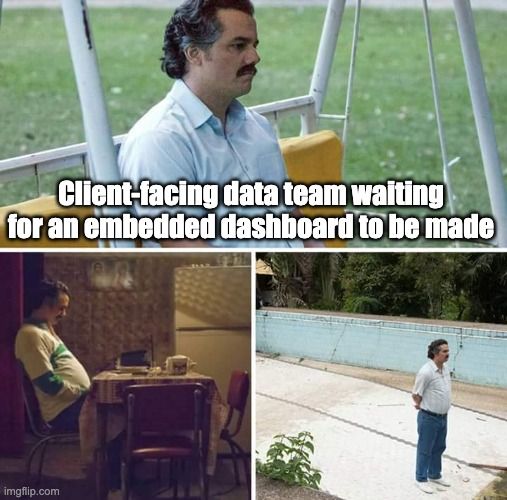 Here's how our customer put it:
"But what we were finding was that when we're in the early stages of a relationship with a new client, it becomes difficult to engage them with this information. What we wanted to do was bring them into the data a little bit more, let them explore the information a little bit more. You could send them Power Bi, for example. You can publish to Power Bi Web, but you can't easily share that with another organization, make it really tricky to do."

At that time, Z was using PowerBI and High Charts - and they didn't make it easier to share insights with external stakeholders.
"If an analyst wants to come along and say, you know what, I bet the client is going to find this piece of information really exciting, or we're coming up to a key event for that client, let's share some information. At Christmas, we see a big event in most of the markets that we operate in, so let's add something for them. Let's add a Christmas performance chart. Let's show them how well they're doing. If they want to do that, we don't bother. We'll just send them an Excel file. If we wanted to get it onto that High Charts dashboard, we're going to have to engage with data engineering, get a new feed into the dedicated database that we use for that high charts instance, test all the charts, and by the time they've done that, you know what, it's probably not needed anymore."
Long turnaround time can even affect customer acquisition. Because the nature of their business is B2B, it often takes a lot of time - months, maybe years, to successfully land a client. The engagement process is lengthy - you have to go through pre-sales conversations and POC and pilots program - all of them. So that the faster Z can pass through each round, the sooner they make money.
Lack of Interactivity
Even when Z data team successfully jump through a bunch of logistical and analytics loop to ship out an embedded dashboard, the struggle does not end there.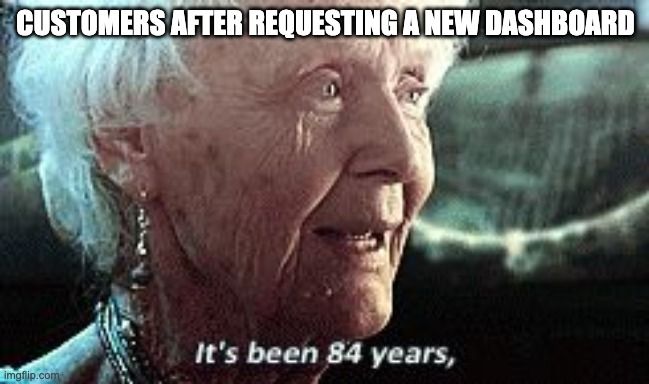 You need to respond quickly to stakeholders' requests - add that filter, add those metrics, or change this dashboard. But with PowerBI or Highcharts, Z team often feels their energy flag going through a lengthy management process: Involve data engineering team, get the feed changes, get it tested, and get approvals.
As they put it:  "We don't want to do any of that. If the analyst knows what's needed, let the client-facing analyst do it and let them empower them to control that."
What Makes A Good Embedded BI Tool?

It's hard to define a good embedded BI tool - I wager a good embedded solution should be aligned with your business needs and data literacy. But based on our interview with Z, and a few other data consultancy companies where embedded analytics lie at the heart of their business models - we ferret out some of the key criteria they use when shopping for an embedded solution.    
Most companies with embedded analytics use cases look for the following
01. Time to Market
No one wants to spend weeks to months just building embedded web reports. And not just time; this usually also requires a lot of data engineering resources.
To achieve this, data consultancy companies like Z often look for embedded BI tool with self-service report builders so that analysts and even non-analysts can make changes to the dashboards using curated and governed datasets. They also look for BI tools with a semantic modeling layer - which allows data team to manage data logic centrally, define and reuse data models to save time, and avoid writing SQL repeatedly.  
02. Integration and Scalability

A good embedded BI tool should be scalable. Scalable in this context refers to being easily deployable and platform-agnostic; whether on-premise with end-users, hosted in a cloud-based infrastructure, or at a data center, a good embedded BI tool should be able to integrate seamlessly.
A scalable BI tool opens up access to insight for everyone; embedded dashboards and reports should no longer be restricted to data teams and C-level execs but to the entire enterprise.
This helps to foster a shared understanding within the business and assists organizations that aim to achieve a truly extended, data-driven enterprise.
03. Access control and Row-level security:

Access control logic is a no-brainer.
Your preferred embedded business intelligence tool should be able to provide security and access control logic on its embedded dashboards and reports.
By implementing security features such as row-level security and permissions configuration, organizations should be able to control and restrict which customer sees what data, as well as the permissions given to each customer per shared report.
04. Self-service analytics and interactive reporting

Any effective integrated BI tool ought to offer some form of self-service functionality. Some, for instance, allow users to do as much as design their models and queries.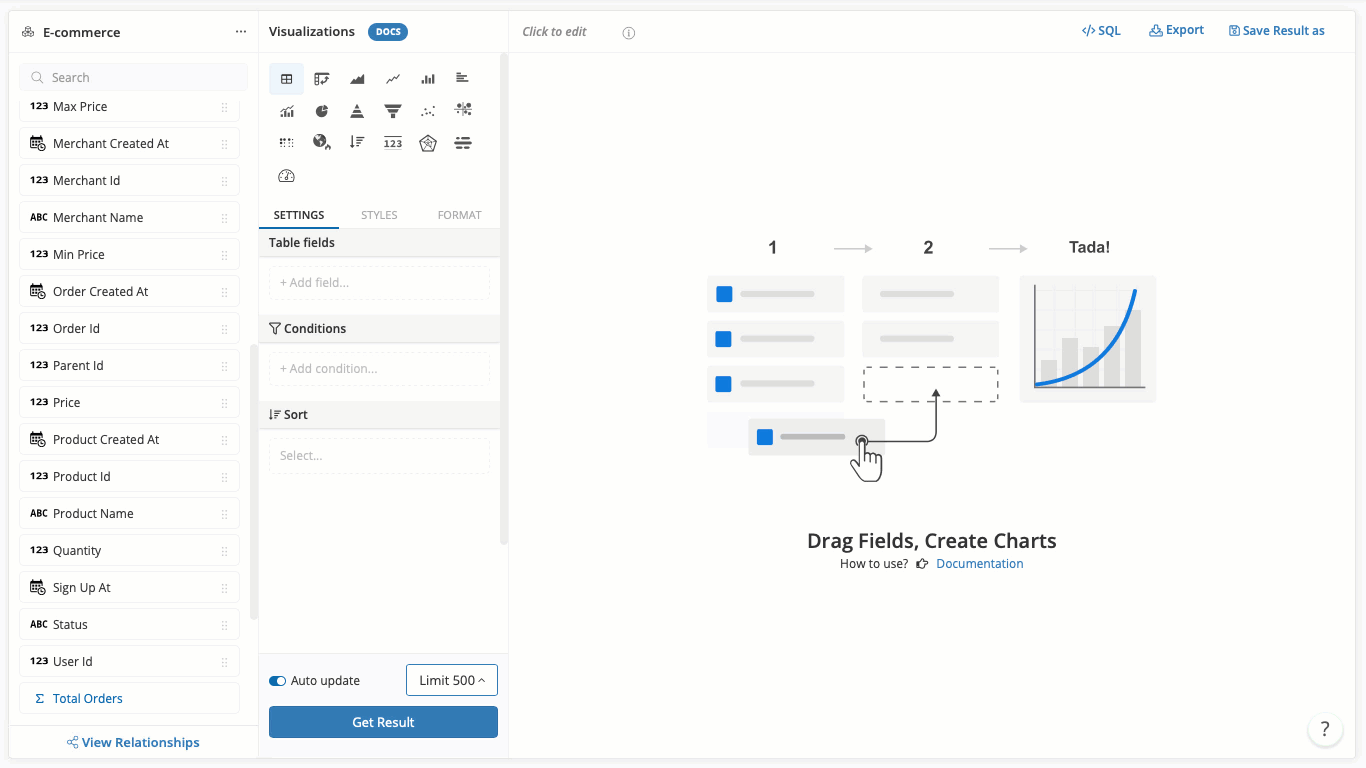 At the very least, embedded bi tools should allow your consumers to drill down and filter within your delivered dashboards and reports.Consumers should be able to drill down into visualizations, apply pertinent filters, and interact with the embedded pre-delivered reports and dashboards.

This encourages a culture of data-driven discovery and gives consumers the impression that their data is in their hands by providing interactivity within an embedded UI. Make sure to talk to sales and check product demos to ensure you are fully aware of the embedded tool's full range of self-service capabilities.
Top Best Embedded Analytics and BI Tools (According To The Above Criteria)
Following the above use cases and criteria, we make a list of best embedded BI tools. Let's dive in.
01. Holistics BI

In Holistics, analysts build and maintain analytics logic in Holistics semantic modeling layer. Non-analyst - account managers, data consumers - can then build dashboards without writing SQL. These reports can be easily embedded or shared with external stakeholders via email, slack, webhooks, etc.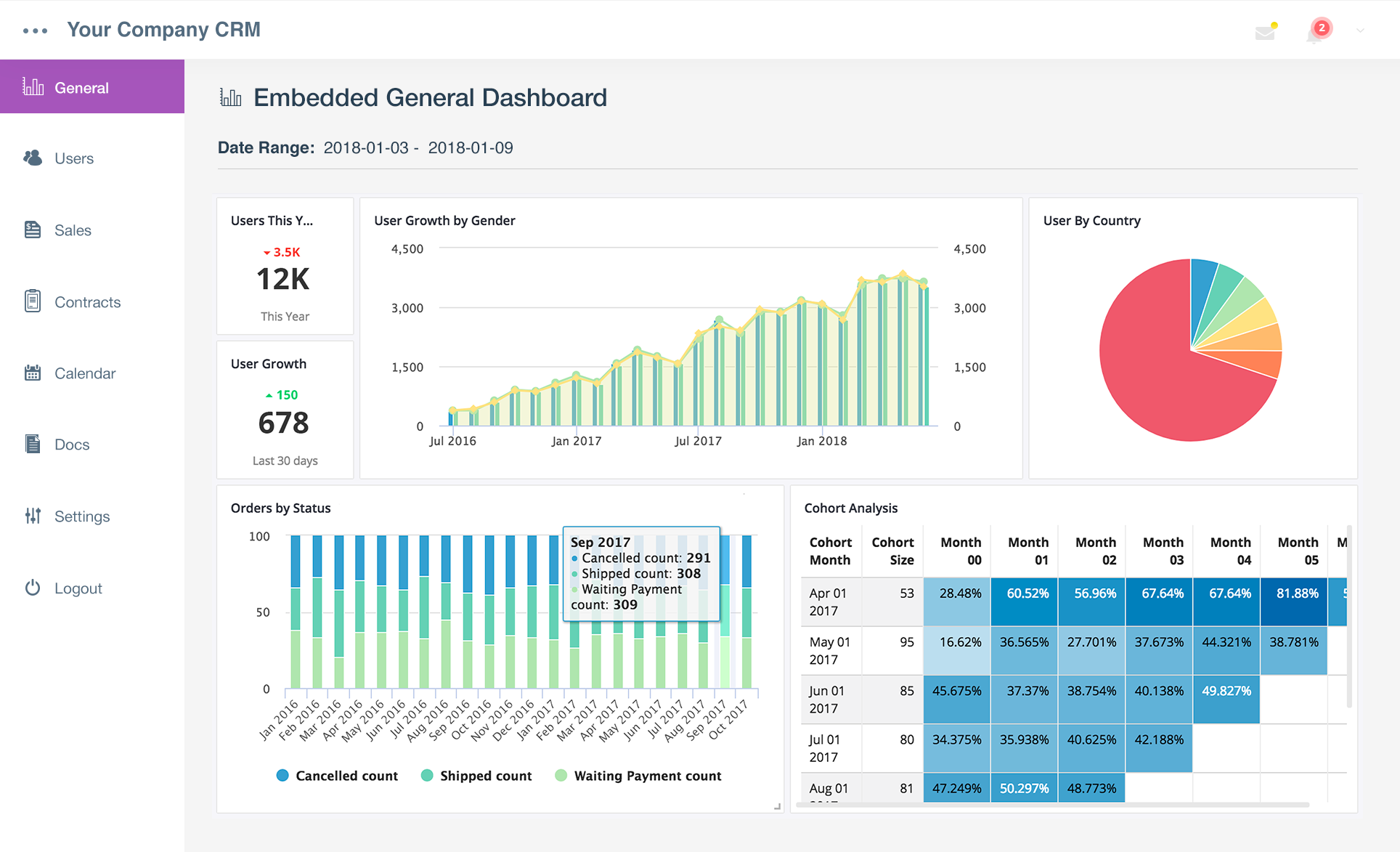 Its key features include:
Semantic Layer - Holistics provides a data modeling layer to centralize metric definitions, allowing data teams to define models once and reuse them later.
Intuitive UI -  with self-service analytics features - allows non-technical users to explore data (by adding filters) on embedded dashboards. Provides customers with a high-quality analytical experience.
Platform-Agnostic: Holistics dashboards can be embedded in any web application software irrespective of the language it's built on. Whether it's Ruby, Nodejs, Python, or even Elixir, we've got you covered!
Security: Holistics uses embedded web tokens and iframes to deliver security and access control on its embedded dashboards. By configuring these permissions and security settings, you can decide who sees the data and what data they have access to.
Git Integration: Data team control codebase quality and know who changes what when - making analytics more maintainable and governable.
Dbt integration.
Pricing: Holistics's embedded analytics solution is $500/months and comes with unlimited viewers, unlimited reports created, and all functionalities included.
02. Dundas BI

Using Dundas BI software, developers may easily create, expand, and integrate white-label data analytics solutions that adhere to their particular specifications.
Some of it features include:
Easy tenant navigation: Dundas Bi provides a superior embedded analytics experience in a multitenant environment to easily and securely construct and maintain tenants, each of which is entirely independent of the others
Variety of reporting choices: Dundas BI offers a wide range of reporting choices tailored to their consumer's specific needs. They offer pre-built visualizations like scorecards (to capture KPIs) and other useful visualizations.
Check out this use case from Noria and how they set up embedded Dundas BI to create a self-service analytics experience within their firm.
Pricing: Dundas BI gives an 8-core user capacity with unlimited viewers, ranging from $4738.70 annually.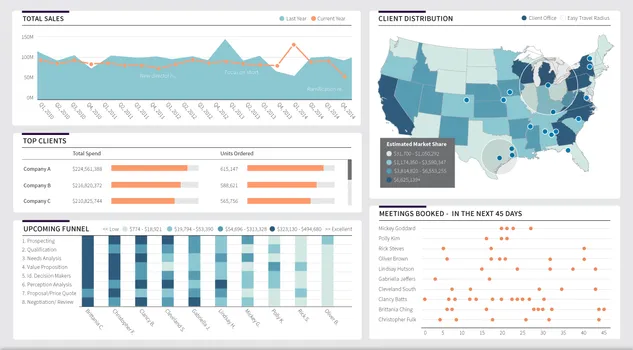 03. Zoho Analytics

With Zoho-embedded analytics, organizations can create interactive reports and dashboards that offer insights that drive decision-making. Zoho's embedded analytics offer deeply integrated capabilities powered by robust APIs.
Easy integration: Using a single sign-on API or SAML authentication, it provides a fluid integration process that aids in integrating a fully-featured embedded analytics platform within your application.
Deployment Options: Organisations can install Zoho Analytics on their own servers or subscribe to the cloud versions on public cloud platforms such as AWS, Azure, or Google.
Read more here on how Peri CRM uses Zoho Analytics as their go-to embedded analytics platform.
Pricing: Zoho Analytics is suitable for small datasets. It has a free package for 2 users only and a maximum of 10 thousand rows of data entry and 5 open workspaces; the paid packages have unlimited workspaces with a varying number of users. $109.34 / month covers the Premium subscription plan (15 users)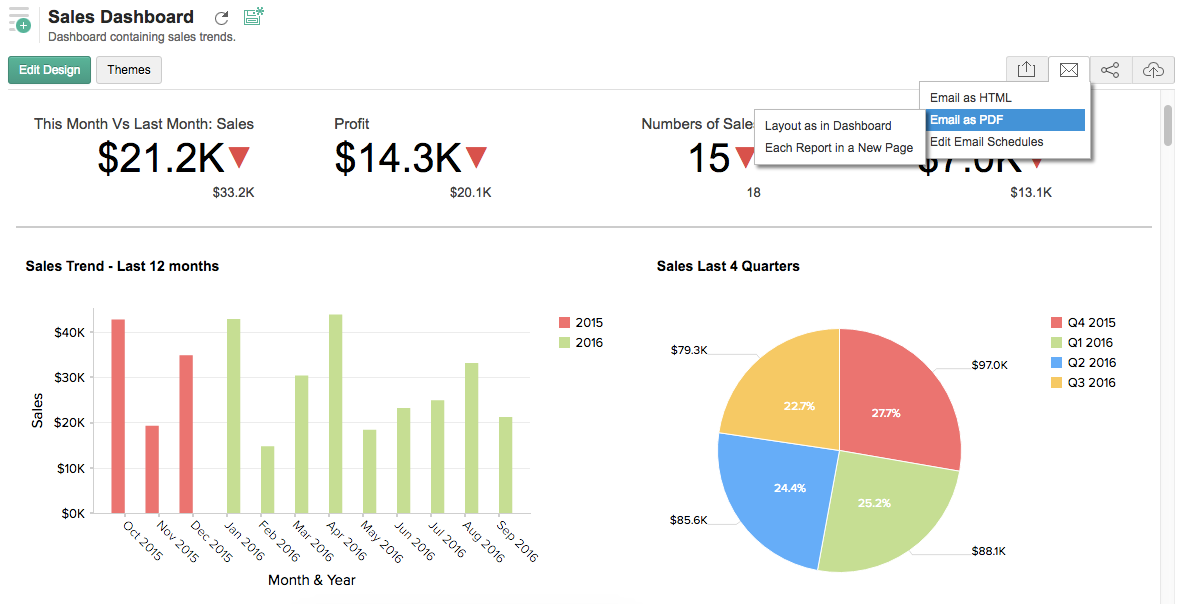 04. Tableau
"Your data, where your customers need it" - is a way to describe Tableau's embedded analytics capabilities.
Some of its highlighted embedded analytics features include:
Easy integration: You can rapidly and easily incorporate Tableau-embedded analytics into your products, applications, and online portals using Tableau APIs and Developer Tools.
Rich Visualization Options: If your business stakeholders are big on visualization and data storytelling - then Tableau is the go-to choice.
See how Ocado Retail, a joint venture monetizes its wealth of data using Tableau-embedded analytics.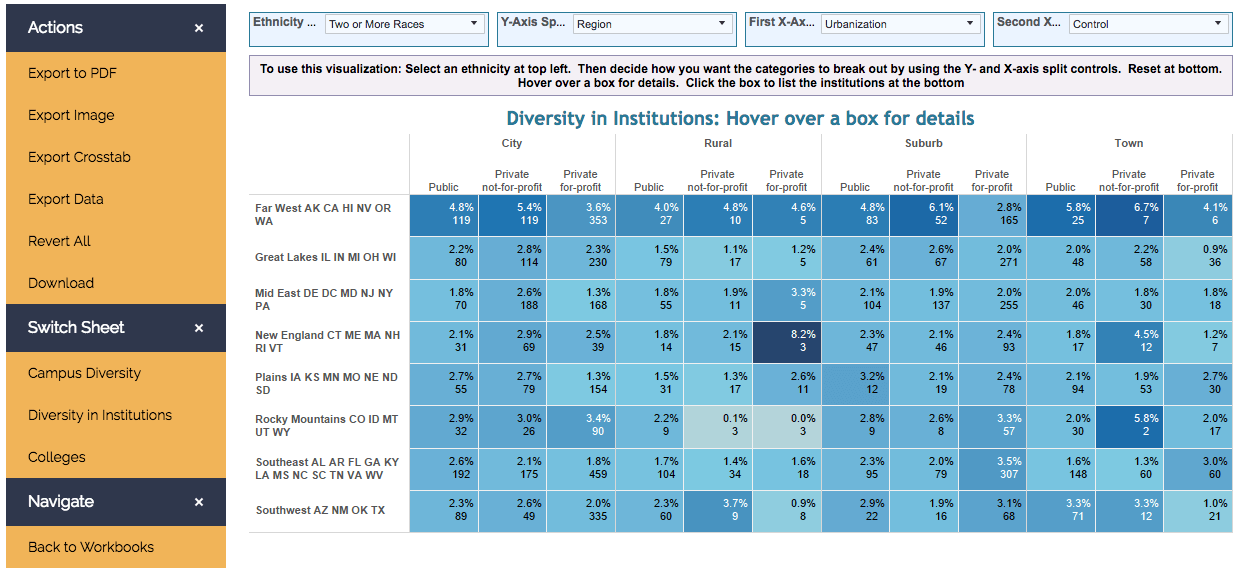 Pricing: Tableau has tiers of pricing available for embedded analytics, but this isn't made public. You can schedule a time for an inquiry here with the team for a personalized quote.

05. Domo Everywhere

With Domo Everywhere, you can host your own embedded analytics solution or let it be hosted for you.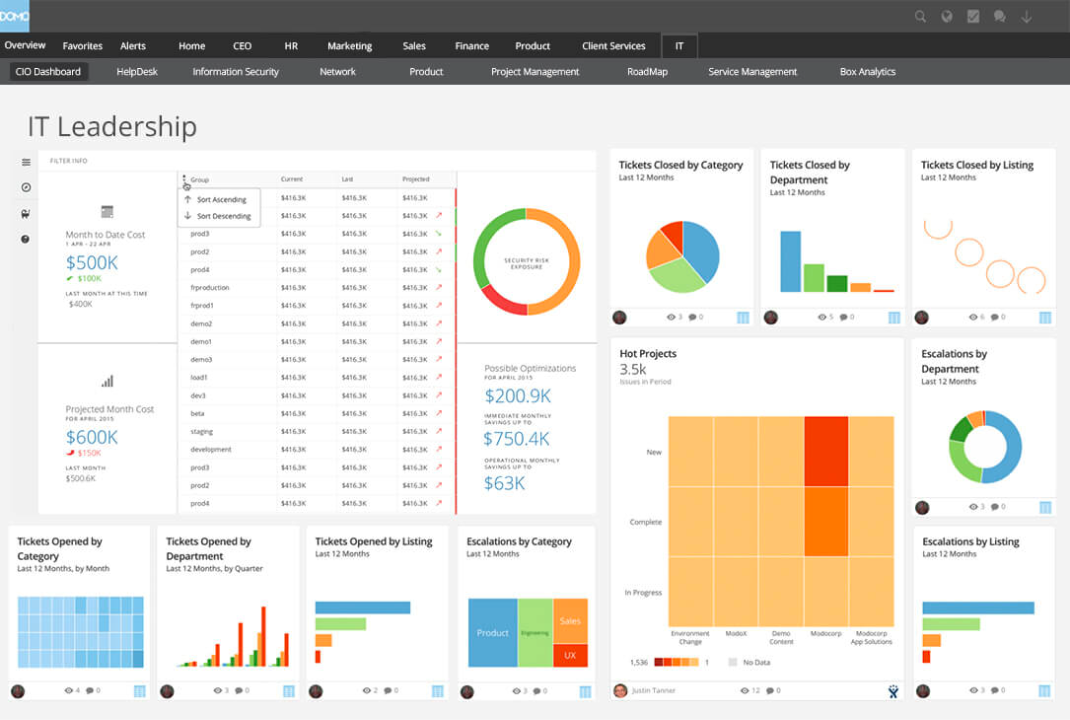 Mobile-friendly UI: Domo Embedded offers a unique approach with responsive design capabilities. This means that embedded reports and dashboards that are deployed can be easily accessed on mobile devices as well as laptops.
Self-service: Domo embedded enables users to filter content, go down to certain aspects, and provide linked analysis and chart-specific interactions.
See how Domo streamlined reporting for DHL Partners using their embedded analytics.
Pricing: With Domo, you can create a free trial account and get a test drive of the software. A detailed and personalized quote for Domo can be found here.

06. Power BI

Power BI's embedded analytics is rich in functionalities - often allow customers to lodge dashboards and reports into their existing applications and delivers engaging data experiences so they can act based on the knowledge gained from your solution's data.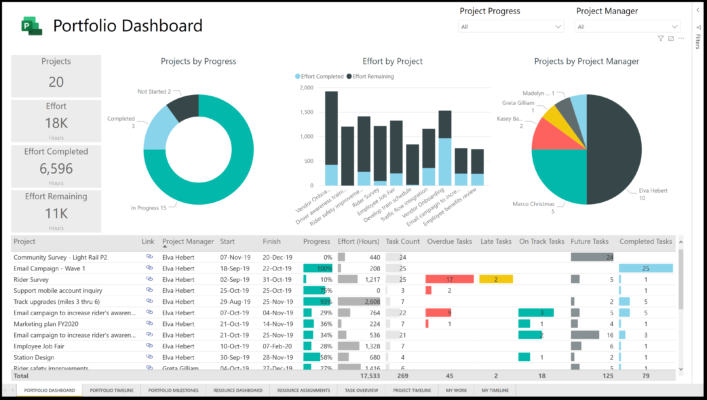 Some of its key features include:
Embed for customers: Using this feature, you can create an app that employs non-interactive authentication methods like SSO(single sign-on). With this, your clients - who are most likely external users can read the embedded content without necessarily logging in with their Power BI accounts.
High Affinity with Microsoft solutions: PowerBI embedded has a high affinity with other Microsoft products; for example, Power automate can be leveraged to monitor interactions in embedded analytics without a developer's services.
Power BI embedded also leverages multi-factor authentication before sign-in.

Here's how Edsby uses embedded analytics to deliver full-spectrum learning and unlock new opportunities.
Pricing: $109.89 per month, which means $9.99 for publishers, and each viewer gets to pay $9.99 with a maximum of 10. The more viewers you have, the more you pay.

07. Looker
Similar to Holistics, Looker has a Code-based modeling layer with self-service data exploration. This allows analyst to quickly create and ship embedded dashboards to clients while making sure metrics are manged centrally and accurately.
Looker's embedded analytics solution has:
Private Embeddeding
SSO embedding: Single sign-on (SSO) embedding is a way to present private embedded Looks, visualizations, Explores, dashboards, or LookML dashboards to your users without requiring them to have a separate Looker login (Users will be authenticated through your own application)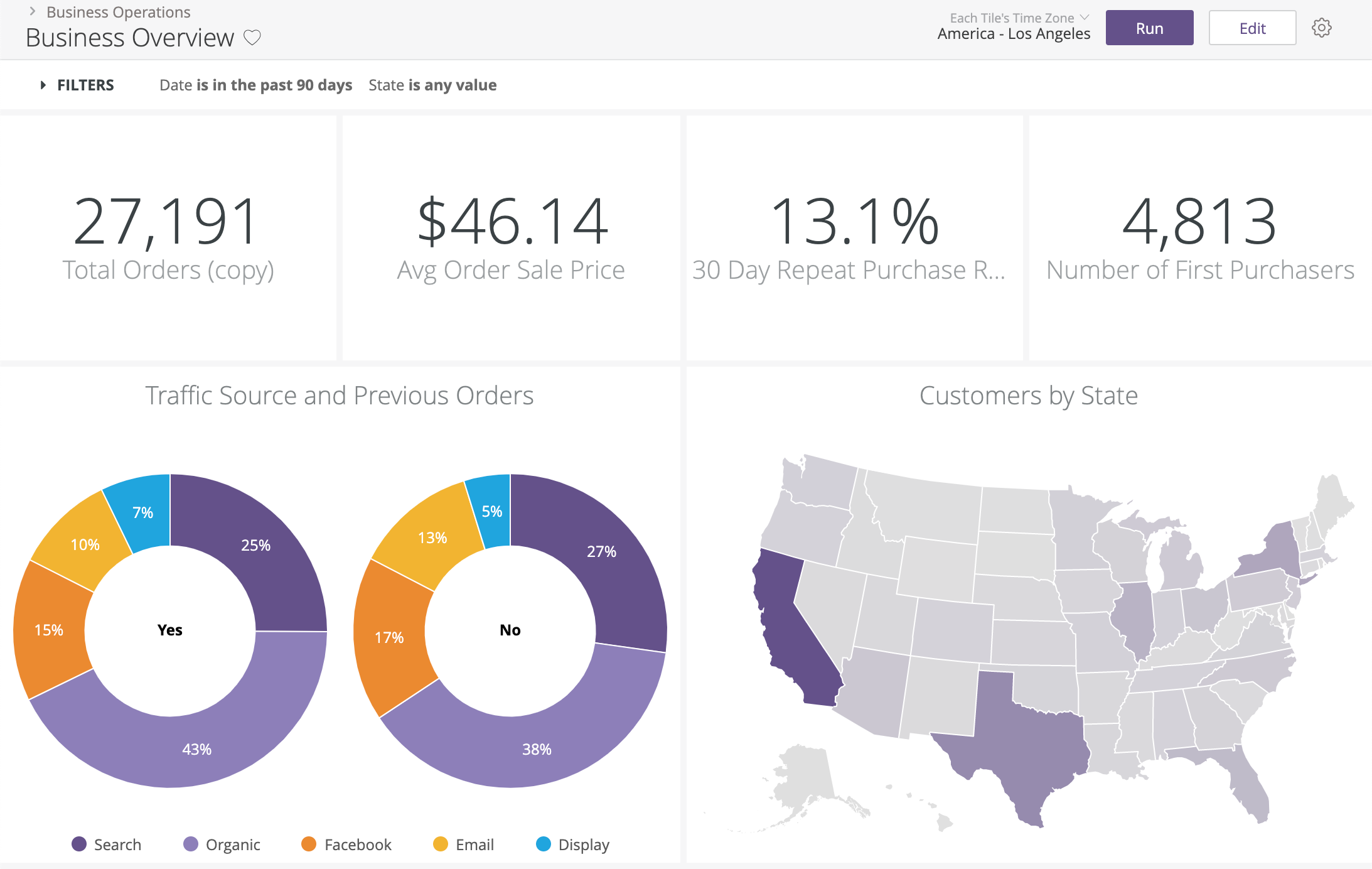 Wix presented a case study on how they empowered millions with Looker's embedded business intelligence feature.
Pricing: Looker's costly price point is what deters many companies with embedded use cases. Looker has tiers of subscriptions depending on the number of users involved in the plan. There are the Standard, Advanced, and Elite packages, ranging from $66000, $132000, and $198000 per annum, respectively.
Related reading: Community Crowd-Sourced BI Tools Comparison Matrix: Feature-to-Feature Comparison
08. Qlik Sense

Qlik makes powerful embedded data analytics easy by incorporating it into your users' workflows by combining data sources. Regardless of your company size, you can create unique embedded analytics dashboards for your consumers.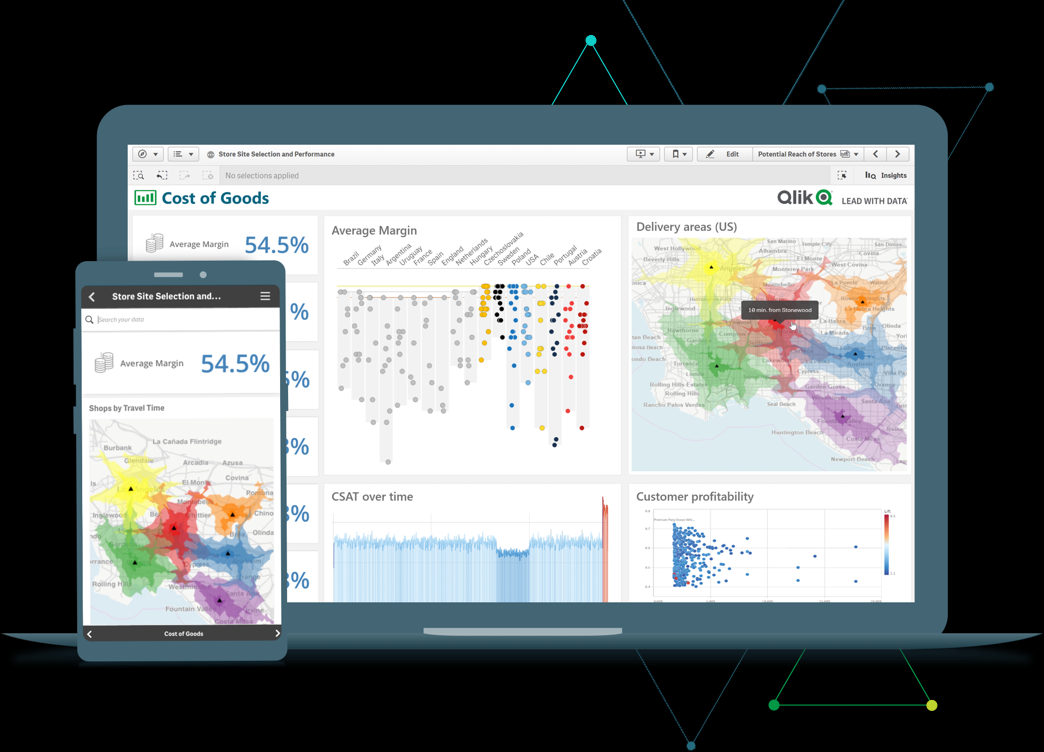 Capability APIs: organizations can embed Qlik Sense visualizations into their web applications, build Qlik Sense visualizations instantly, and obtain data from the field by using Qlik's Capability APIs.
Interactive analytics: Qlik Sense embedded analytics improves knowledge sharing and user experience on your website and mobile app by using interactive analytics to uncover data-driven insights and pique interest and engagement.
Pricing: $330 per month with a maximum of 11 users.  
09. Infor Birst
Infor Birst provides teams with guided self-service access to data items and semantic definitions that allow for flexible embedded analysis possibilities.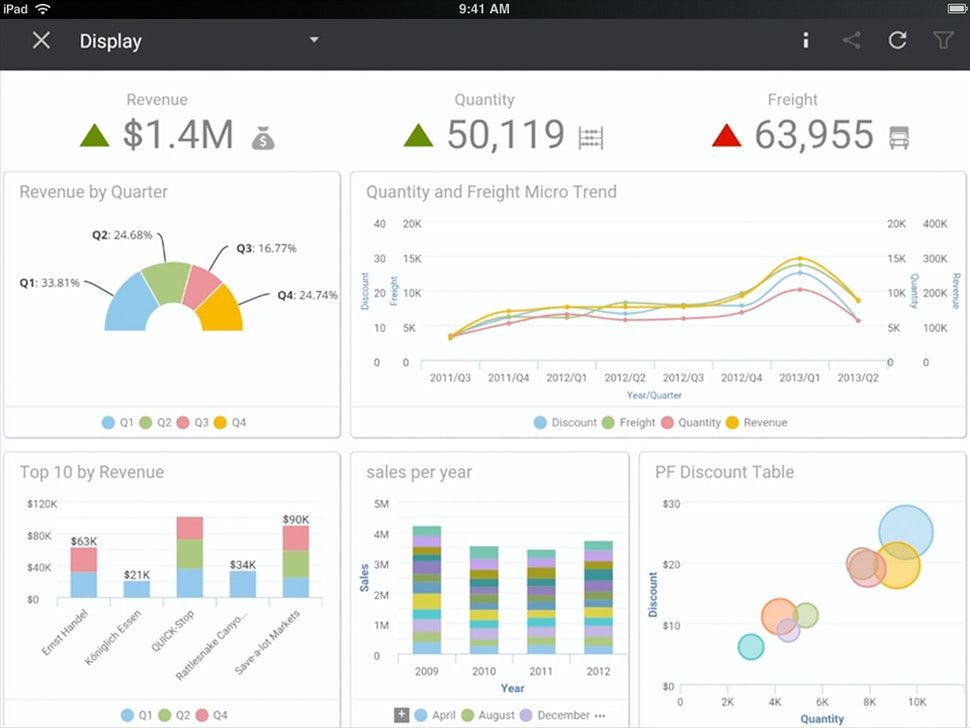 Pricing: Infor Birst is a product with quote-based pricing, therefore pricing plans and packages available depend on a particular subscriber's requirements

Wrap-Up
Embedded BI presents an opportunity for a fresh data-driven culture, one that can help companies yield a higher ROI by saving time and allowing business stakeholders to interpret data according to their needs contextually.

Thinking of where to start?

Reach out to sales to discuss the future of a tailored Holistics embedded analytics solution or explore a free trial here.




What's happening in the BI world?
Join 15k+ people to get insights from BI practitioners around the globe. In your inbox. Every week. Learn more
No spam, ever. We respect your email privacy. Unsubscribe anytime.
Confused about the complex analytics landscape?
Check out this book to bring yourself up to speed on the ins-and-outs of a contemporary analytics stack.
Download Book
"I'm shocked to be telling you this next sentence: I read a free ebook from a company and actually loved it." - Data Engineer