Holistics Data Journey - How Data Is Applied In Governments, Non-profits vs. Private Organizations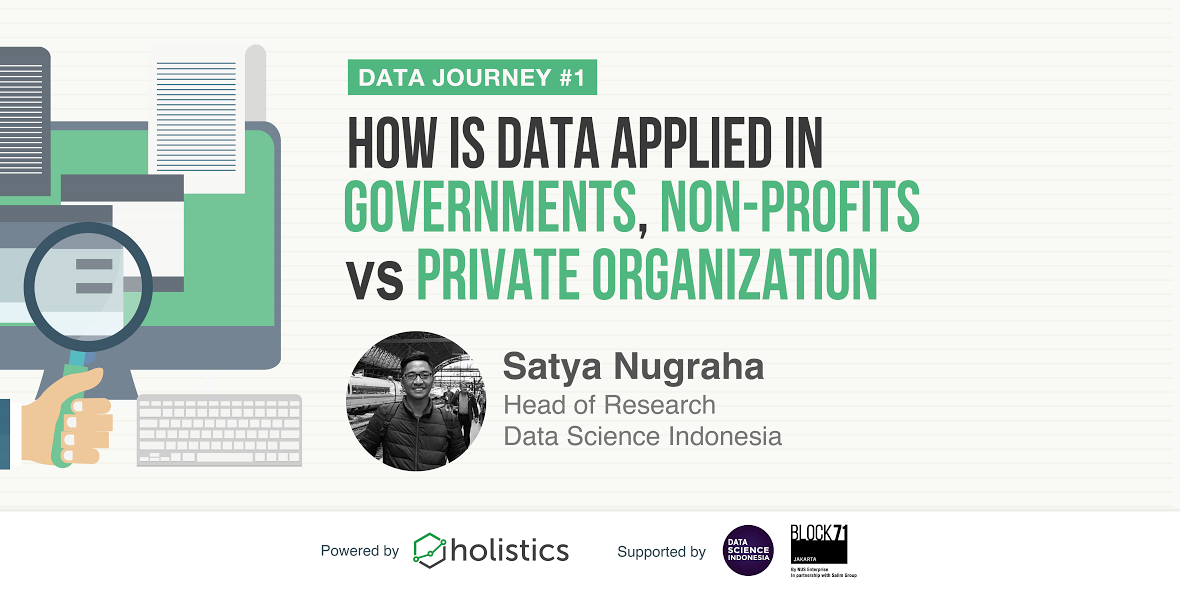 Thanks for joining our recent inaugural session of our Holistics Data Journey webinar series, on "How Is Data Applied In Governments, Non-profits vs. Private Organizations"! We've made our first session available online, thank you to our excellent audience that posed deep and probing questions on the topic.
In this first online-sharing event, our speaker Satya Nugraha, a data scientist whose experience spans from non-government organizations (NGOs), public sector to private sector, shared about the common problems he sees in implementing data projects, and how different organizational structures affect how each of these groups look at solving data problems.
In this session, we covered:
How data is applied differently in NGO, government, vs private sector
Learn about real-world case studies of implementing data projects in these various sectors from our speaker.
What are the problems faced when implementing a data/BI projects and managing different stakeholders.
Holistics Data Journeys is a regularly held online sharing experience about data challenges by the community and for the community, powered by the Holistics Software team. The aim of the Data Journey experience series is to create an awareness of the power and workings of data to create better value for business and society.
About our speaker
Satya Nugraha is an expert data scientist in nonprofit organizations, and has a background in computer science from Gadjah Mada University. Previously, he was involved in work with the United Nations as a data scientist, focusing on data pre-processing, analysis & visualization. He is passionate about helping
NGOs such as UNICEF Indonesia, also as a data analyst for U-report and is currently working for Akvo.org as a data scientist to help partners in the wash, agriculture, and government sectors. Besides his activity
at Akvo, he is also involved as Head of Research & Development of
Data Science Indonesia, an independent community to educate, socialize and implement data science approaches in Indonesia.
Feel free to get in touch with us, to have a private demonstration of our data solutions for your needs. You can try Holistics free, here.
— — — — — — — — — — — —
​
Having problems finding a simple and affordable data reporting system for your startups? Check us out at holistics.io.
Sign up for more tips on using Holistics
Tips and tricks for getting the most out of the platform!
No spam, ever. We respect your email privacy. Unsubscribe anytime.
From SQL Queries To Beautiful Charts
Connect to your database and build beautiful charts with Holistics BI
Learn More
"Holistics is the solution to the increasingly many and complex data requests from the operational teams"
---
Tang Yee Jie
Senior Data Analyst, Grab