Embed Analytics Dashboards Into Your Applications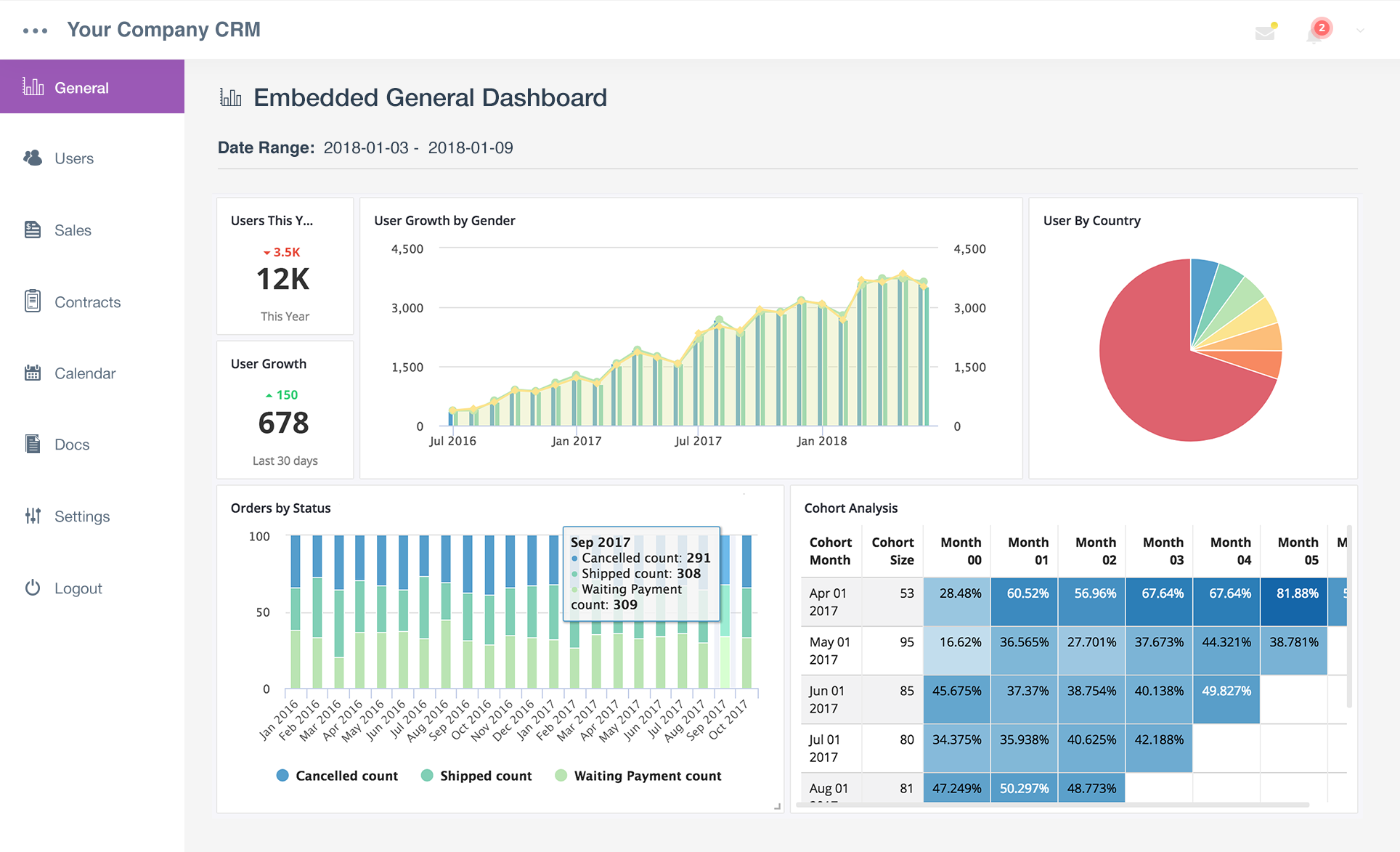 As startups and tech-enabled companies, often times we are sitting upon invaluable data for making decisions, be it for conversion, retention or business growth. This becomes especially important when working with customers and partners, who are now expecting more in terms of information, insights and access to data
Sharing data with customers can be a tricky business, especially in terms of security. How do you ensure a customer does not gain access to another customer's data? How do you share a dashboard online that does not reveal or leak any sensitive underlying data?
While working with our customers in Holistics, we realised that this was a problem that numerous tech companies were facing, which led us to develop our Embedded Analytics feature. This allows you to create external dashboards for partners and customers to interact with as part of your own application, without compromising data access and security. With this, embedding dashboards is as easy as embedding a YouTube video into your application!
We created a simple 3 step solution for embedding dashboards into your applications, in an easy and secure way.
Step 1: Prepare your dashboard in Holistics, and include a dropdown filter with your customer IDs as the key.
Step 2: Generate your embedded link, with the embed codes and expirable tokens.
Step 3: Place your embedded iframe inside your application!
You can find out more about our embedded analytics feature at our link here.
When it comes to looking for the right solution for embedding dashboards, especially into your own application which faces all your customers, there are several important considerations:
Ease of solution (for both creating and embedding dashboards)
Wide variety of charts/reports, visually compelling and customizable
Secure customer specific views of a dashboard (so customers will only see their own data and not others)
Affordability of solution (a solution that does NOT price according to customer views)
Part of how Holistics ensures that we can fulfill these requirements, is by using JSON web tokens (JWT) to encrypt your customer tokens. The secret key for the embed link you create in Holistics is used to sign your customer token payload with the HMAC 256 signature mechanism, which is a secure hashing function that is part of the SHA-3 Cryptographic Hash Standard issued by the National Institute of Standards and Technology (NIST) of the U.S. Department of Commerce. This signature is used to check the payload's integrity, and prevent people from tampering and modifying your payload during the issued request.
As your data needs, customer base and company continues to grow, the right solution for embedding dashboards into your applications needs to be both easy and safe.
Being able to provide the highest quality solutions to you is part of our mission at Holistics, so as to grow with you on your journey to fulfill your personal mission!
Feel free to get in touch with us, to see how we can help you with automating your data needs!
— — — — — — — — — — — —
​
Having problems finding a simple and affordable data reporting system for your startups? Check us out at holistics.io.
Sign up for more tips on using Holistics
Tips and tricks for getting the most out of the platform!
No spam, ever. We respect your email privacy. Unsubscribe anytime.
From SQL Queries To Beautiful Charts
Connect to your database and build beautiful charts with Holistics BI
Learn More
"Holistics is the solution to the increasingly many and complex data requests from the operational teams"
---
Tang Yee Jie
Senior Data Analyst, Grab