Use Holistics to boost your eCommerce sales with data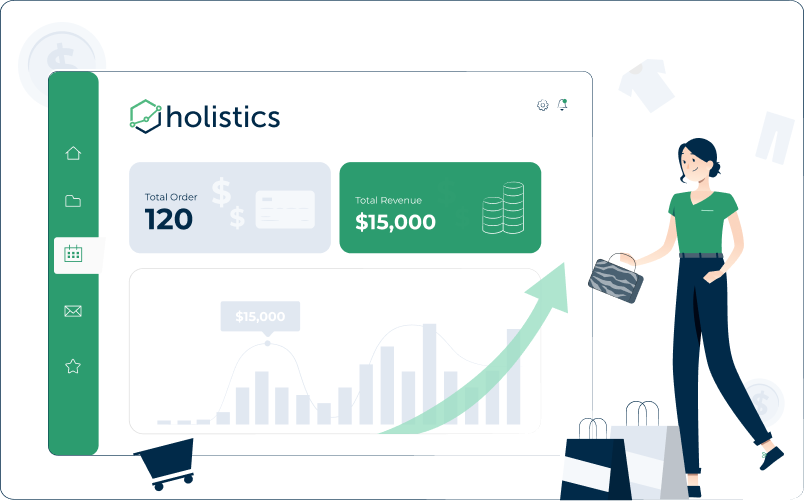 As the e-commerce landscape becomes more lucrative-yet-competitive than ever, buyers are getting bombarded with relentless pixel-tracked ads and flashy promotional campaigns.
To stay ahead of the Hunger game and capture people's attention, brands have no choice but to constantly monitor their sales and intervene timely with the right actions.
While there are already many tips and tricks offered out there claiming the "best ways to boost sales", none of the websites tell you which to do first.
The problem is: Those websites are assuming that you have such problems that need their solutions, while in fact, you don't.
For example, some sites may tell you to offer more discounts, but the truth is most of your customers are from developed countries and they don't mind paying over their nose. Having more discounts don't necessarily encourage them to buy more. It might even give them the wrong impression that the listed products are of low-quality.
So what's missing?
Data.
Without data, you don't really know if a problem is actually your problem.
You might waste resources on matters that yield negative ROI i.e poor online marketing - which is the top reason why 90% of e-commerce start-ups end in failure within the first 120 days
That is why I wrote this blog.
I will share how to use data to pinpoint your problem, and thus suggest the proper solutions to significantly improve your sales. There are 4 ways to boost your e-commerce sales using data:
Send the right message to the right customers (demand side)
Find out where your business falls short (demand side)
Cater to the right merchants since the early days (supply side)
Take action on abnormal changes instantly (brand side)
For demonstration purposes, I'll use Holistics as a BI tool to generate and explore the data I used to make decisions.
Send the right message to the right customers
I get so frustrated when I received spam-calls from a travel agency promoting a special discount for a family vacation. One, I don't understand why they got my phone number. Two, I don't even have a wife and children (yet...) to even be eligible for that discount. Although I'm a keen traveler myself, there's no way I can enjoy that.
The travel agency just lost a few cents of call. Plus, they lost me - a potential customer - which could translate into a few hundred dollars.
Finding the right customer segments is critical in defining the right marketing message. With the right tool, that process is faster and effortless. Holistics will not only help you create high-level dashboards like this:
but it also enables business users to dive into those data and find game-changing insights.
At first glance, everything seems great: GMV is rising through the years, and there's a growing number of buyers. First, we'll need to discover the under-performing countries.
Taking a closer look, though, we'll find Singapore ranks the lowest when it comes to revenue. But Singapore is still too large a segment. Using Holistic's Drill-through feature, we can easily break down Singapore's revenue to a more granular level: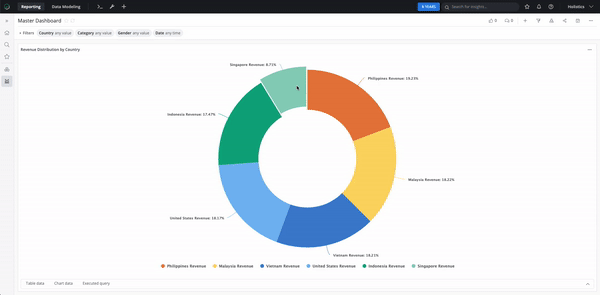 Here, we can see that our store's revenue in Singapore has been on a downward trend since late 2018. This is quite alarming as other countries' revenues have been going in the opposite direction.
At this point, you might want to know the contact information (name, email) of people in Singapore to target via a marketing campaign. It's easily noticeable that Body is the most preferred category in Singapore, so we'll prioritize finding out the people who purchased it first.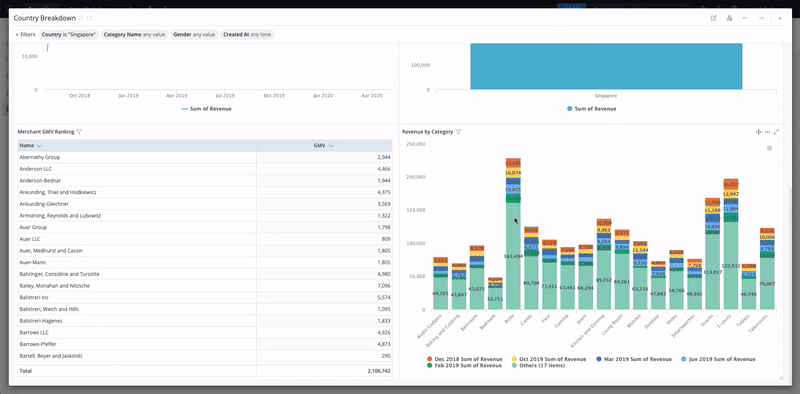 The Customer Demographics dashboard shows that a majority of Body buyers are female who ages under 20. In this case, a large discount may appeal to them, since they are probably students who don't have a stable income stream.
Knowing our target user's name and gender, we can craft highly targeted email or Facebook ads campaign, where we might use more lively colors and promote female products (as Adidas creatively did in one of their email campaigns)
We can even go extra miles by finding their birthdate, and use Automated Email Marketing tools like MailChimp or ConvertKit to send special offers on their birthday. (Do you know that Birthday emails can yield up to 342% higher revenue per message?)
Find out where your business falls short
Holistics is extremely helpful when it comes to visualizing eCommerce metrics, especially conversion rates. Using Holistics, you can easily graph out your conversion funnel using the Funnel visual type.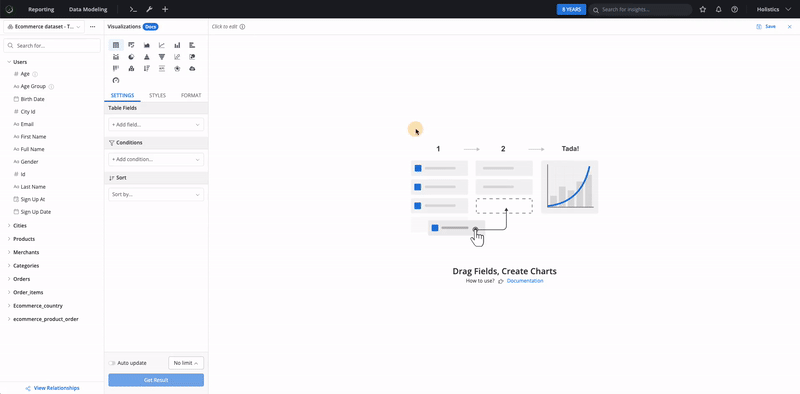 In our example, we notice a huge amount of orders are canceled orders (35%) - which means a ton of money was wasted on logistics, human management, and business operation.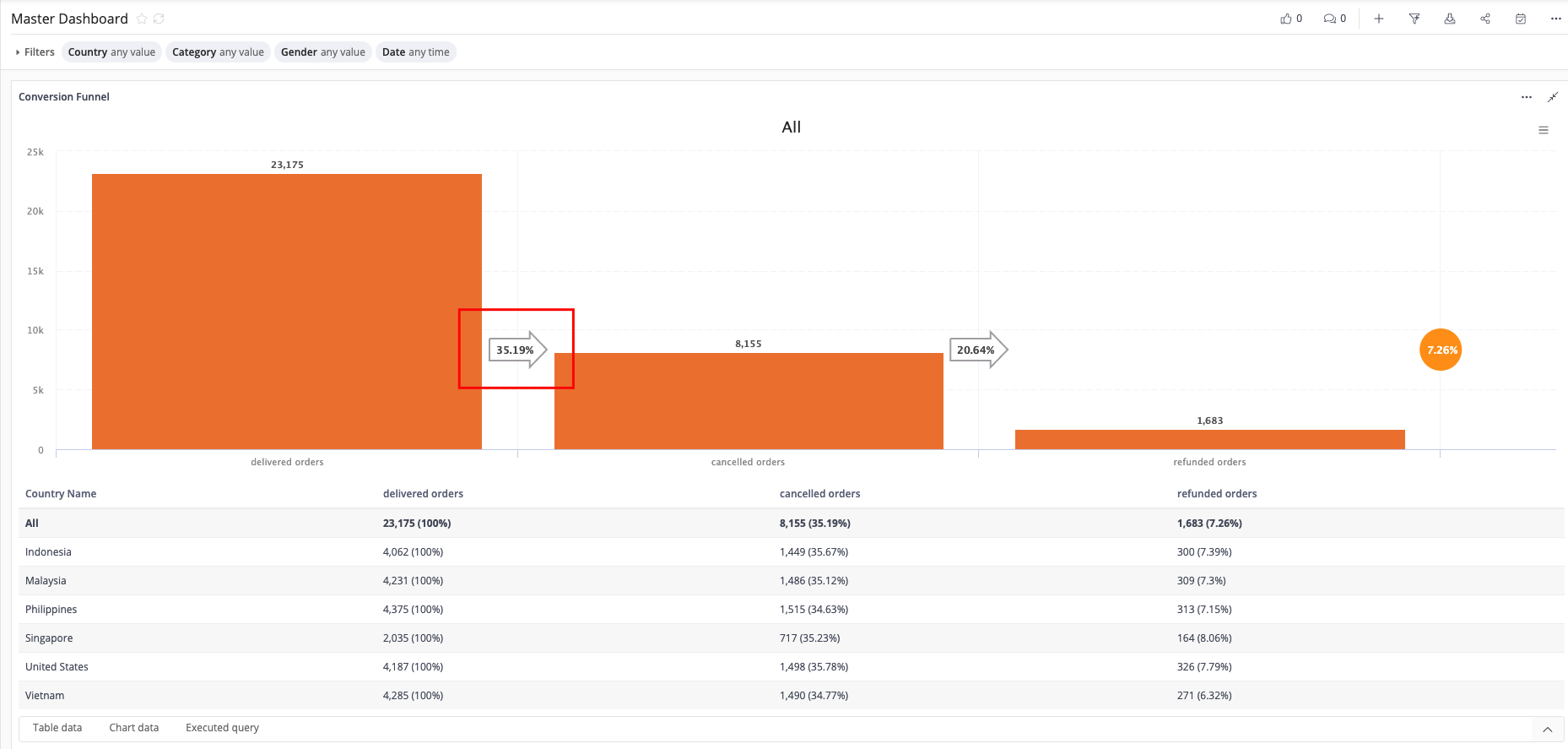 The most important step to be taken in the case of high cancellation rates is identifying the reasons for these occurrences. With Holistics, we only need to use Drill-through to find the contact information of those who canceled and reached out to them. Needing more information? Hit Explore and add some more fields to the table!
Again, it's the act of verifying which of the below problem is actually your problem:
Poor customer service: After placing an order, customers might have questions, requests or complaints which, left unattended, might lead to annoyance and thus cancellation.
Too long delivery time: By the time people click Order, their patience clock already starts ticking. If they don't receive the goods within the promised time, they might feel frustrated and cancel the orders.
Unclear order status: If your website keeps displaying "Pending merchants' approval" for a good, although it might have been processed, it's highly likely people think it's a malfunction and they will cancel the orders.
High price: It's understandable for customers to buy from the cheapest vendor. If the merchants on your platform price their products too high, people might find another cheaper alternative and cancel their orders.
There are many other problems, but the bottom line is we should be able to reach those who canceled to understand the underlying reason(s).
Airfrov, an eCommerce online retail company - also a client of Holistics, has applied the same strategy to reduce cancellation rates significantly. Citra (digital marketing executive) and her team leverage data like trending items, keywords searched, product requests, and fulfillment rates to help the marketing team decide what promotions to run.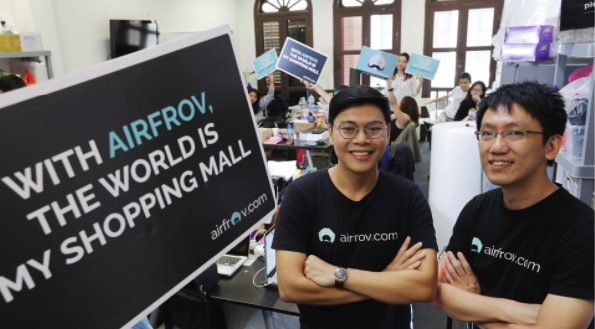 For instance, if they notice a high number of requests for a product but the fulfillment rate is low, they decide not to promote it, to avoid the chances of users being disappointed by cancellations or denials. If both demand and fulfillment rate is high, the marketing team promotes the product to users.
Cater to merchants since the early days
Merchants are also your customers. To some extent, it is more difficult to familiarize them with the platform because unlike buyers, they will be constantly working with us and using our process. With Holistics, we have a tool to monitor their usage to give them a "nudge" at the right time.
Reduce merchant on-boarding time
Each e-commerce platform has its own procedure to go through, and often it is complicated. However, Holistics's  19 visualization types will cater to the most complicated tracking needs.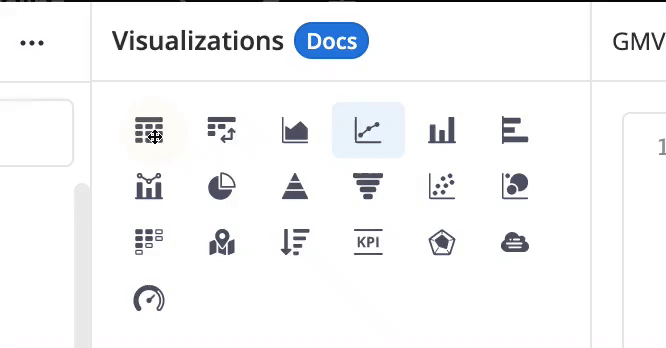 Market disruptors like Fave put their laser-focus on minimizing the on-boarding time for merchants. Whenever merchants sign up to join the Fave platform, they go through various stages, such as editorial content production, quality assurance, setting up deals, and more.
The operations team tracks this process closely using Holistics and aims to reduce the time the merchant takes to go through each department.
This eases the process for the merchant and also helps prevent them from dropping out of the process. Most importantly, it helps them to start selling deals earlier.
You can read more about Fav's case study here.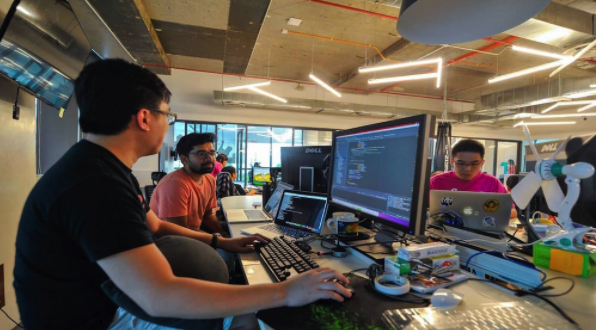 Identify under-performing merchants
To identify merchants with the lowest GMV, simply use Sort. You can also leverage Conditional Formatting to change the cell's color based on the revenue. That way it's much easier to detect weak perfromers.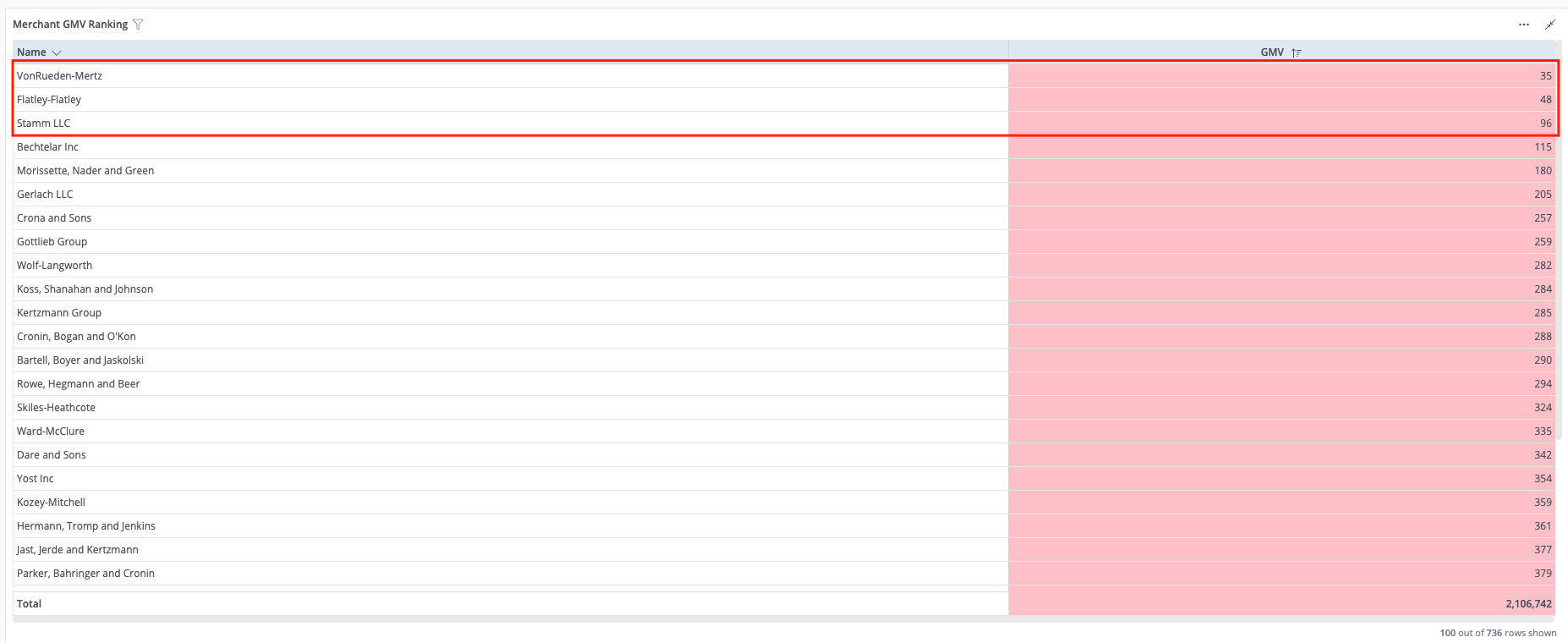 After identifying the merchants' contacts, we should find out the underlying problem by taking a close look at each merchant. Finding the common pattern among those merchants is our goal here. This might be a lot of leg work, but it's worth it to pinpoint the true root causes, which could be:
Your site lacks special conditions/added-value offers for merchants
Sellers lack proper educational program
To learn more about how to attract merchants, check out this dedicated post by Cs-cart!
Take actions on abnormal changes in time
At Holistics, we know that the reports are meaningless unless they are shared with relevant stakeholders. Therefore, we have developed Embedded Analytics to help you embed the dashboards wherever most accessible for you, and quickly identify abnormalities at your own disposal.
You can also use Add Schedule to send information to your email or slack channel at a specified time and frequency depending on your need. If you need to send these dashboards to your merchants, personalize the Email Subject and Email Body.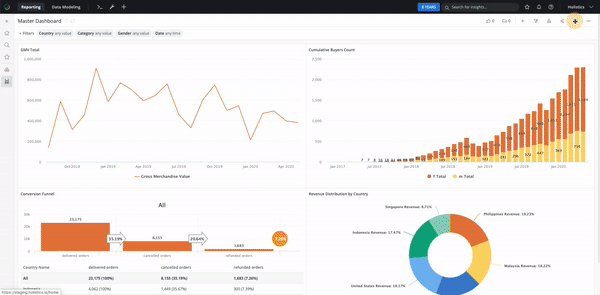 This is how it looks in reality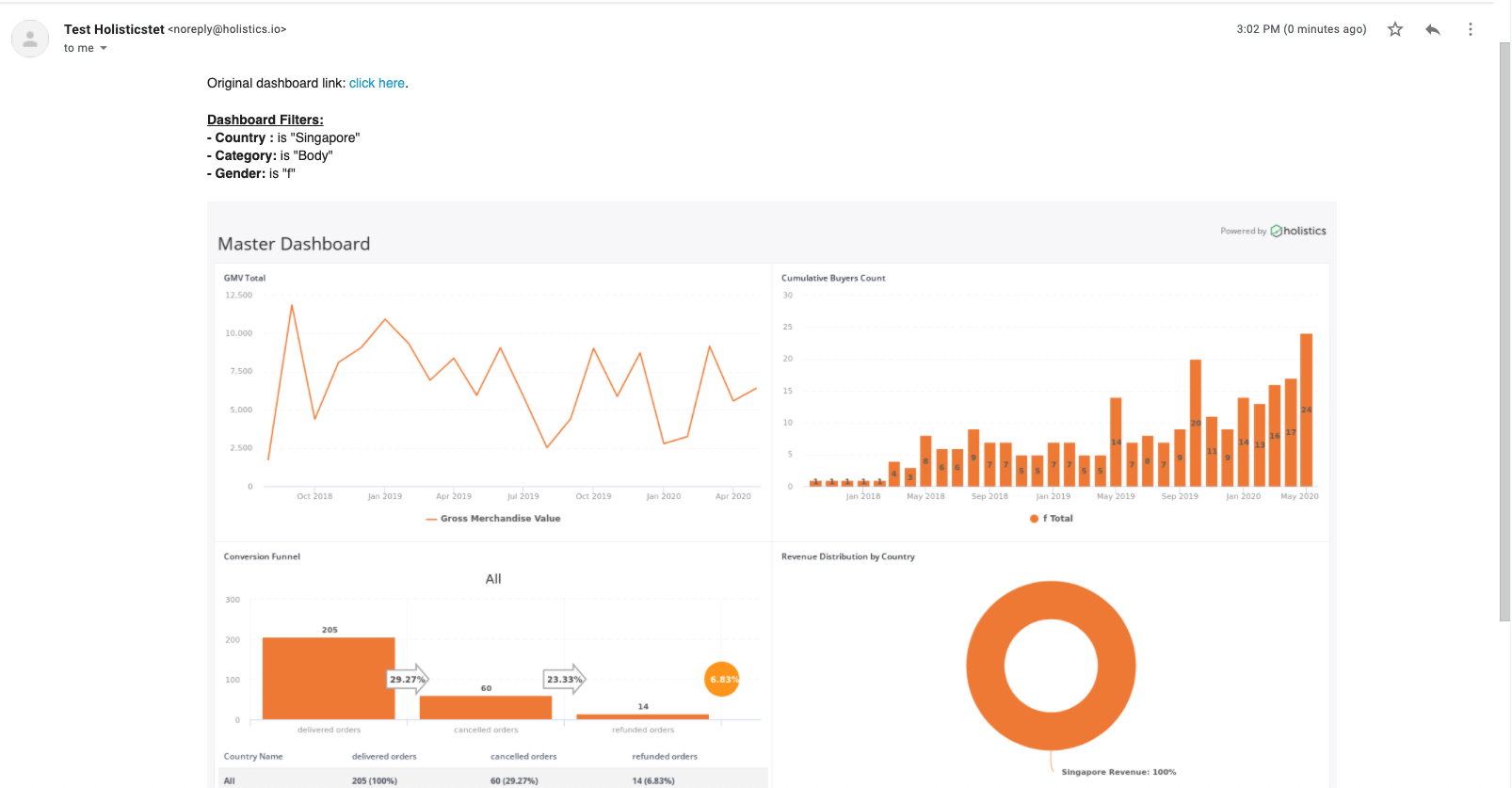 Keeping such information as the merchant's health transparent is vital to both merchants themselves and your company. While you might be conscious of improving your sales over time, sometimes it's the merchants that understand the market the most and know when (or how) to take actions.
Conclusion
Above are some of the ways you can use to make data-driven decisions for your eCommerce business. Essentially, we can use data to:
Discover the right segments of users (thus, better message!)
Discover drop-offs in our conversion funnel (and the reasons)
Discover underperforming merchants, their pain points, and their behaviors (thus, better support)
Make timely decision before our competitors (thus, better market advantage!)
I hope this blog post has given you an idea of how to explore your data and apply insights into boosting your eCommerce business. You can learn more how other companies are using Holistics to improve their business in our case studies.
If you're still on the fence about how your data looks like in Holistics, don't hesitate to request a trial or contact us for a consultation!
What's happening in the BI world?
Join 15k+ people to get insights from BI practitioners around the globe. In your inbox. Every week. Learn more
No spam, ever. We respect your email privacy. Unsubscribe anytime.
Confused about the complex analytics landscape?
Check out this book to bring yourself up to speed on the ins-and-outs of a contemporary analytics stack.
Download Book
"I'm shocked to be telling you this next sentence: I read a free ebook from a company and actually loved it." - Data Engineer