Holistics July 2020 Product Updates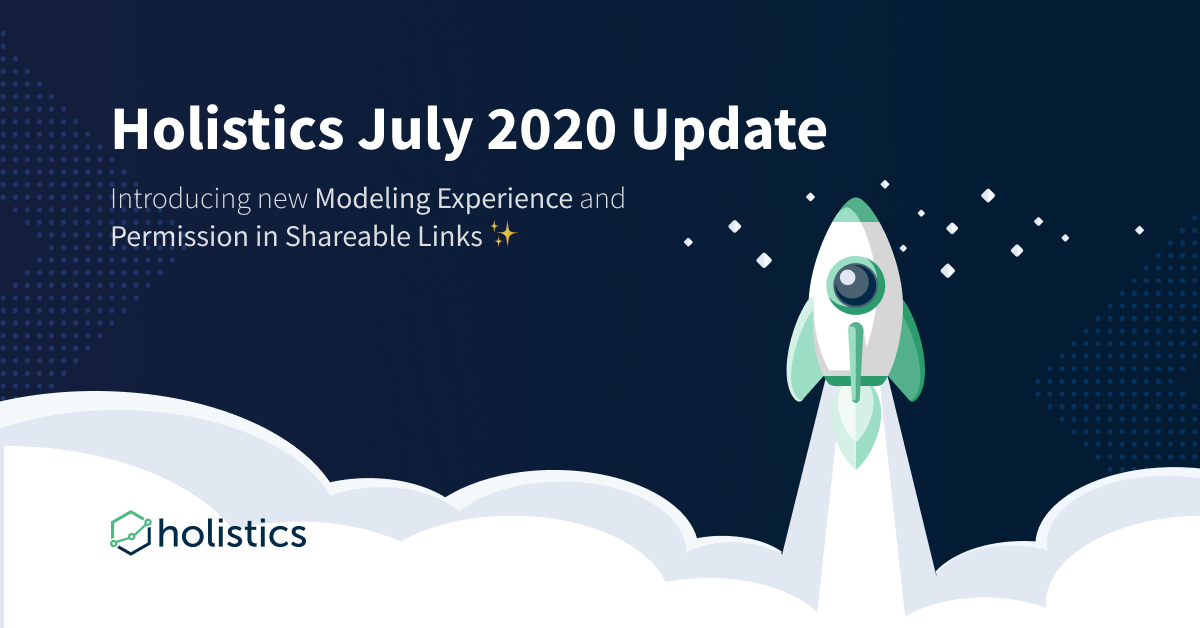 All good things must to come to an end, and be replaced with something better 🎉We've shipped 5 new features for Holistics V3.0 that make your experience more wonderful than ever:
New Data Modeling workspace ✨
Better Data Lineage ✨
Shareable Link with Permission Settings ✨
Better table display with flexible row height ✨
New Sort pane in Table & Pivot table ✨
Introducing New Data Model Info
Our new Data Model Info is a central place to get an overview of your model's details & manage its settings. You can quickly access and control your storage settings, view data model's relationships, and check your data lineage visibility. All in one!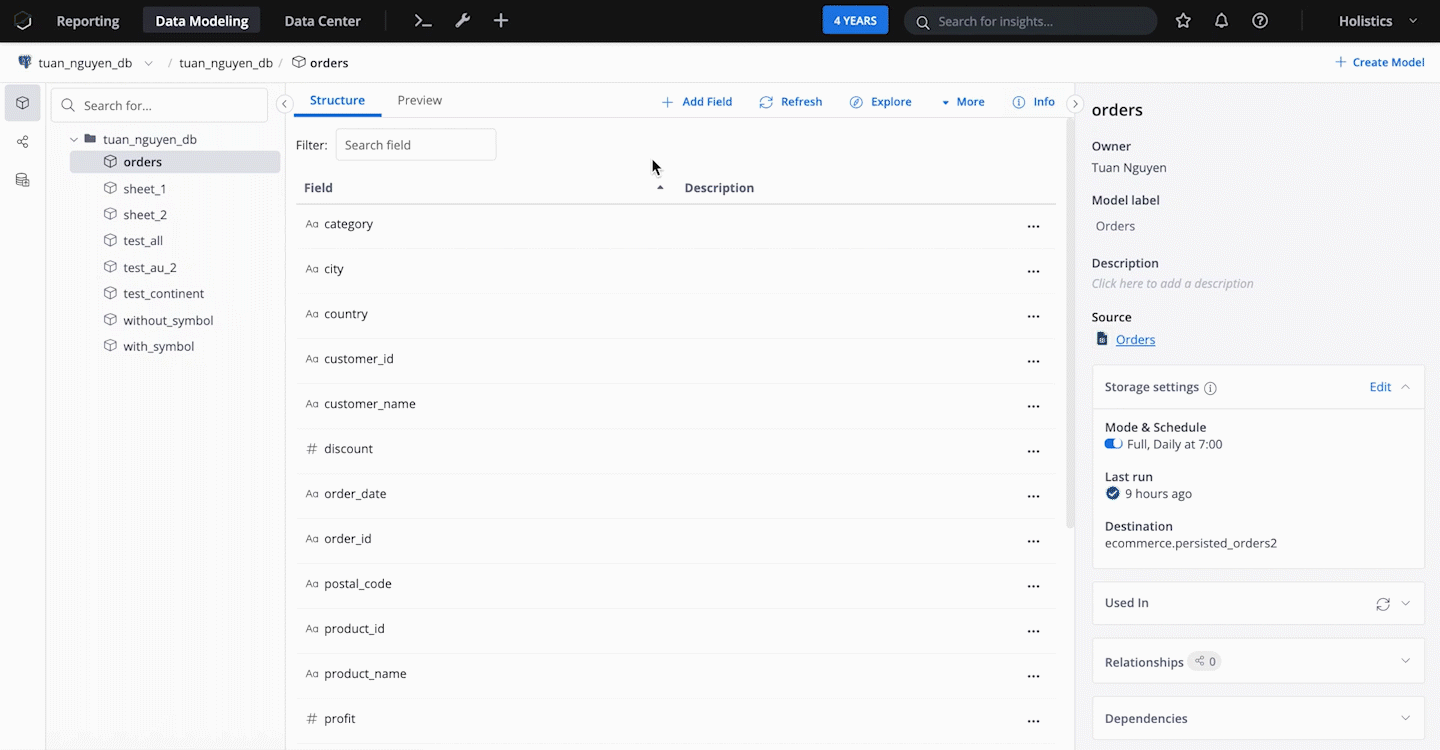 We are making incremental changes in our Data Modeling to improve your workflow, so expect lots of updates in the upcoming months!
Better data lineage
A data model normally has dependent derived models, datasets, and relationships. Removing that model may break the whole data workflow. With our improved data lineage visibility, you can now view where your model comes from, where it is used, and understand the effect of changes made on your data.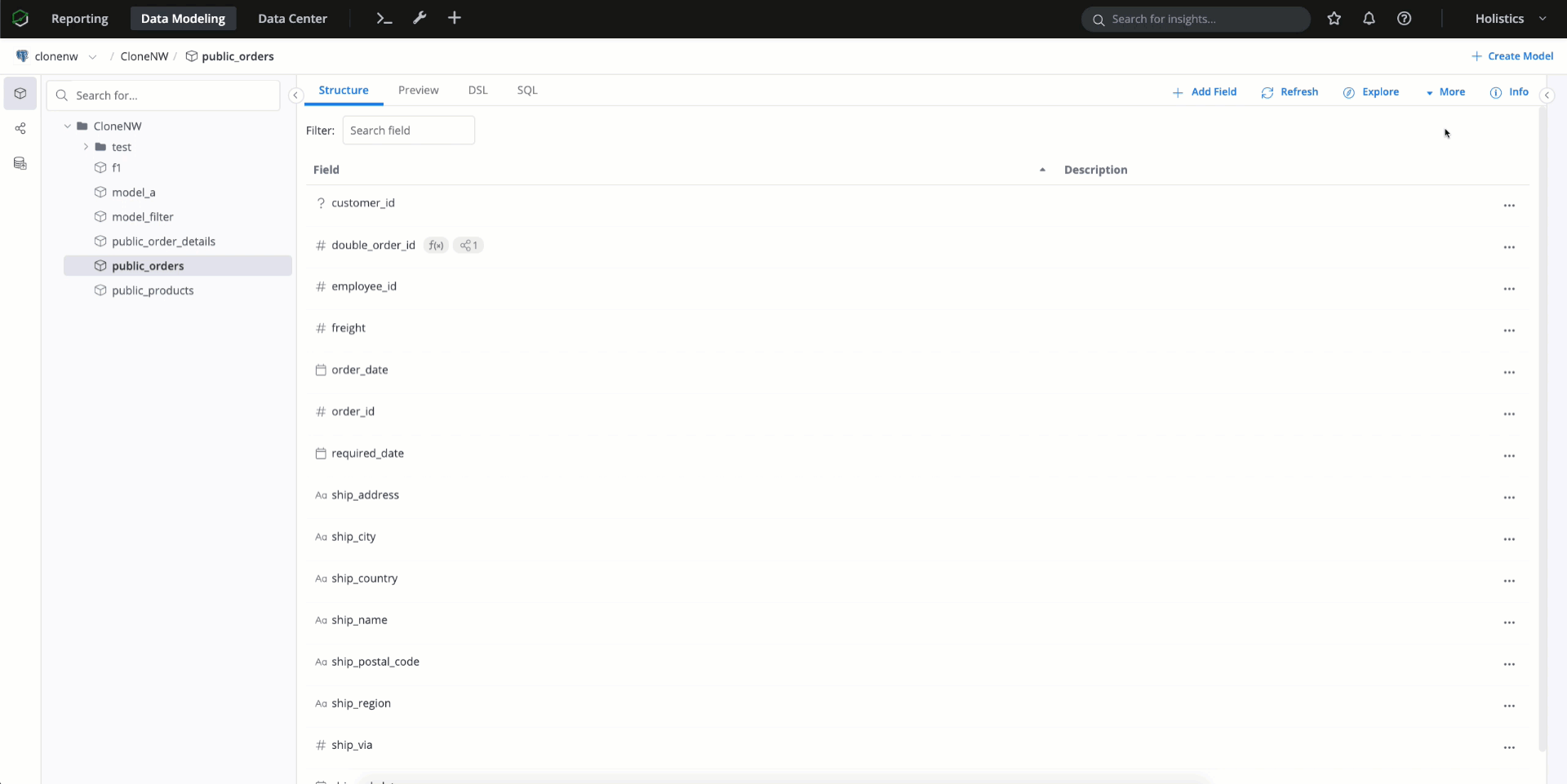 Shareable Link with Permission Settings
You're building reports for multiple clients via Shareable Link and need to apply restriction to the data they are not allowed to see? Piece of cake, our new Permission Setting in Shareable Link can help with that.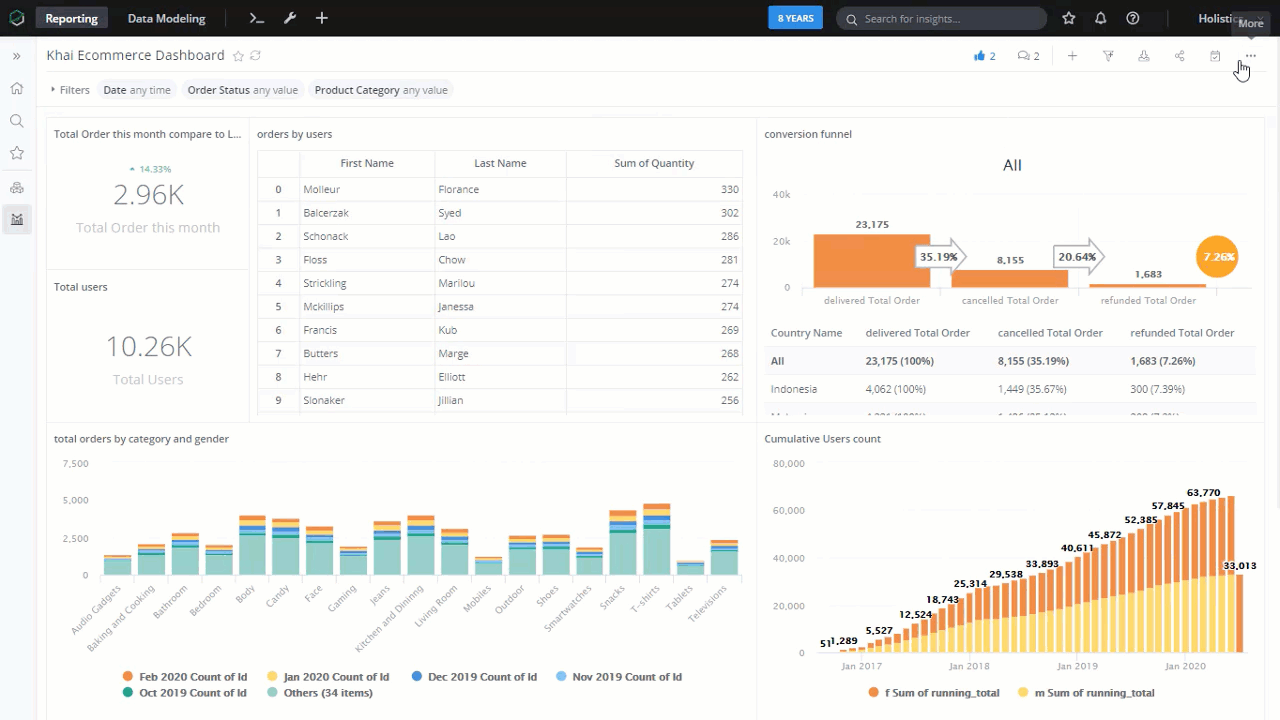 Let's take an example: By setting permission to your shareable link:
Merchant A accessing link A can only see and filter Category: Bathroom, Bedroom; while
Merchant B accessing link B can only see and filter Category: Audio Gadgets, Face, Gaming
To achieve this, just simply create a shareable link, set permission and send the link to proper client. For more information on how to configure it, please refer to our doc here.
Better table display with flexible row height
With flexible row height in table, you can either flexibly overview your table in single-line display or see detailed data with multiple-line display. In single-line style, you can also easily capture and copy the whole wrapped text by hovering on the target cell.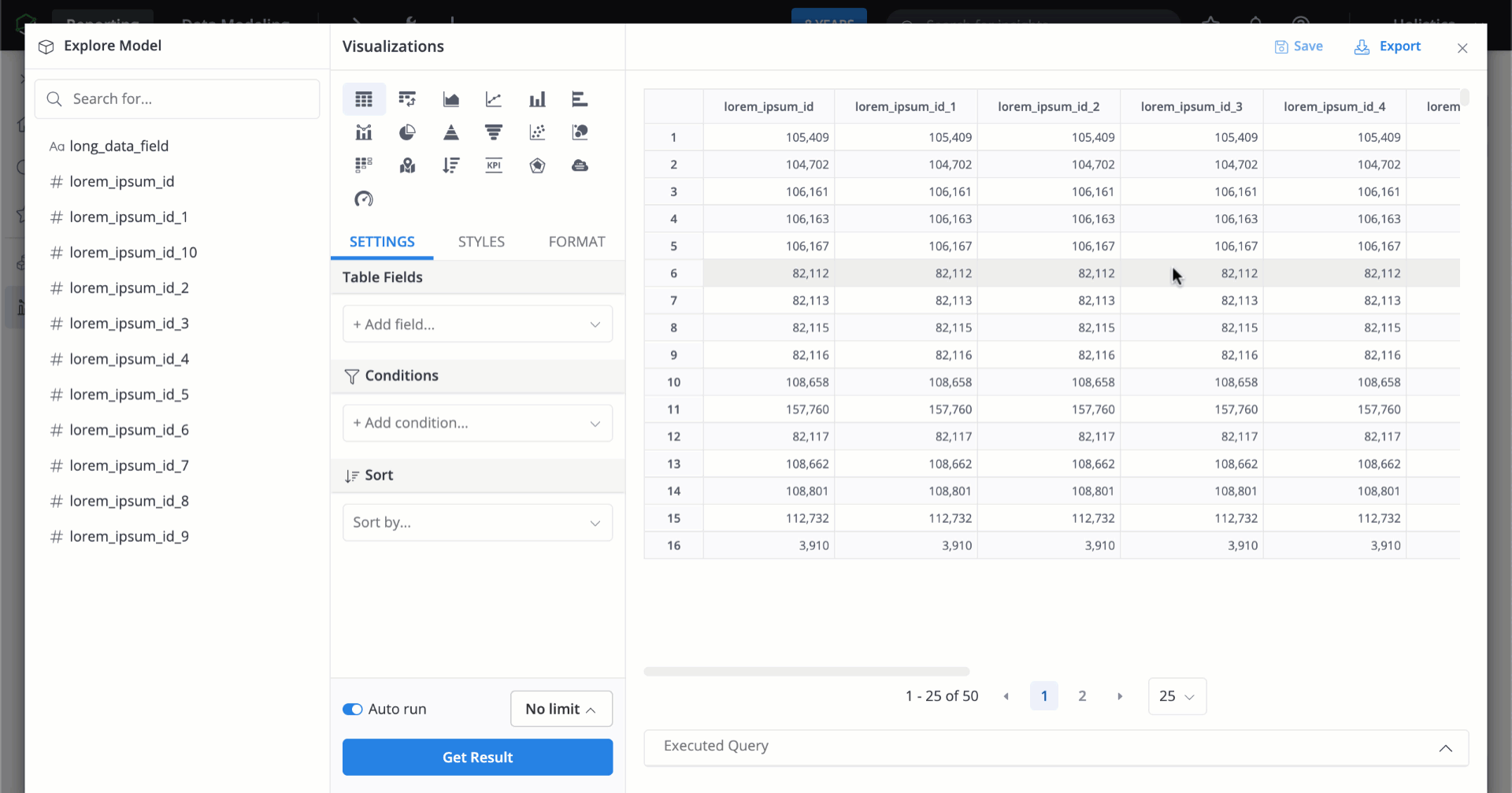 To change row height settings, just go to Viz Settings of any table > Styles > Change Row height to Single-line or Multiple-line.
Sort Pane in Table & Pivot table
Have you ever been frustrated because our table is always sorted in ascending order first? We have added sorting options for our table & pivot table to make your life a tad easier. Now you can choose to sort in any order you want or reset sorting order more quickly.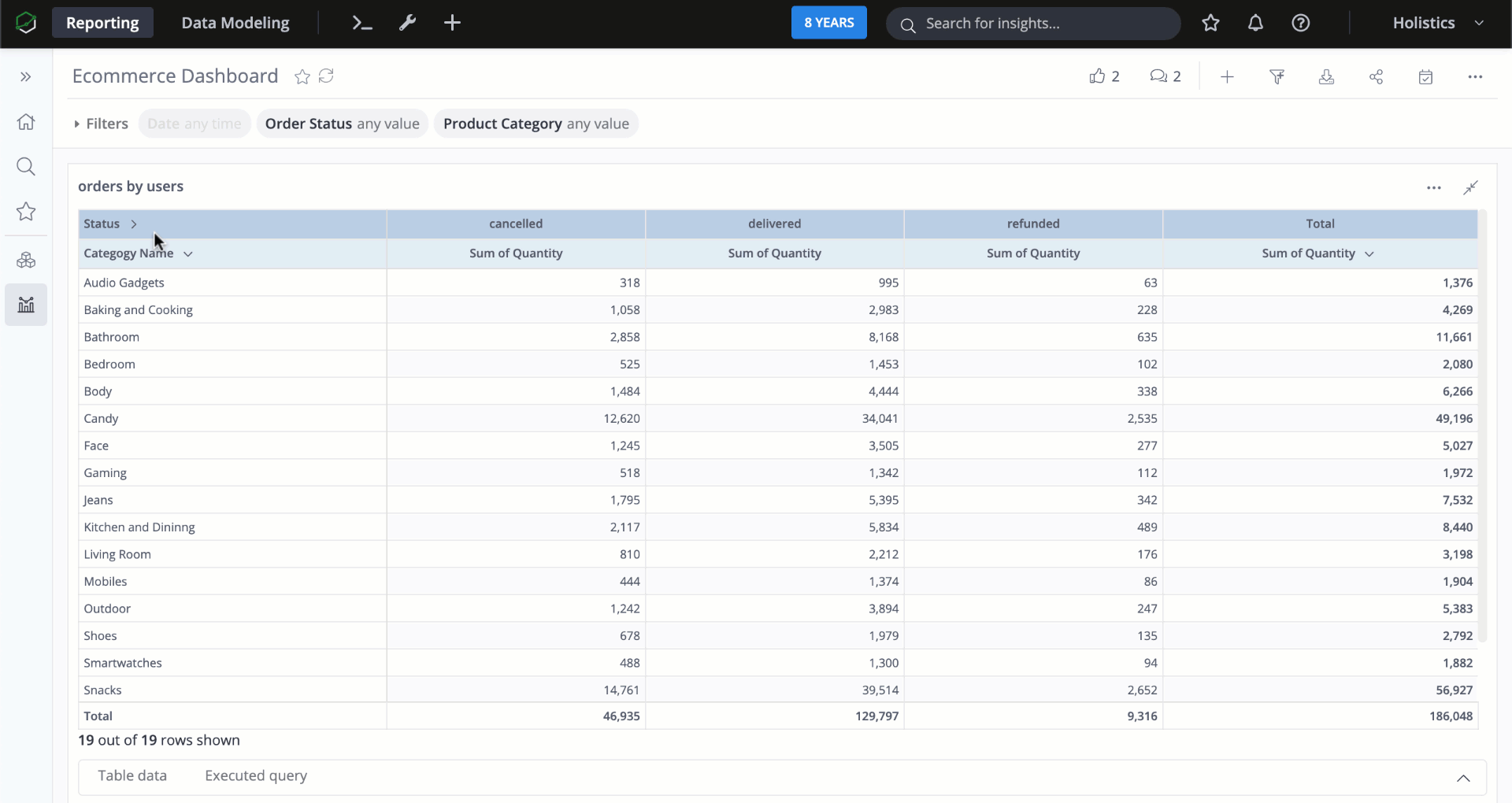 Other highlights
Better Conditional Formatting
Infinite Scroll for Table/Pivot
Better Embedded Analytics experience in Mobile
Coming up next
Curious on what's gonna be released in the next few weeks? Our team is hard working on:
New version of Import Model;
More powerful Map Visualization;
Google Spreadsheet Schedule for reports;
Super smart Holistics Expression which serves more advance use cases such as calculating fields from different models, period-over-period or business ratio, etc.
Let's stay tuned for our next product announcement! 🎉
Stay updated!
Besides the 5 new features and other improvements above, there are a lot of incremental changes in our back-end to solve ad-hoc problems and improve your overall experience in Holistics. If you want to get a little bit geeky, check out our release note where we list them (almost) all!
Please continue sending us your feedback and don't forget to subscribe to our newsletter to stay updated with the newest features!
What's happening in the BI world?
Join 15k+ people to get insights from BI practitioners around the globe. In your inbox. Every week. Learn more
No spam, ever. We respect your email privacy. Unsubscribe anytime.
From SQL Queries To Beautiful Charts
Connect to your database and build beautiful charts with Holistics BI
Learn More
"Holistics is the solution to the increasingly many and complex data requests from the operational teams"
---
Tang Yee Jie
Senior Data Analyst, Grab