How to improve map precision in Holistics
Sometimes Holistics will not recognize one or more of the location names in your data. When this happens you will see a similar error banner at the bottom left of the map preview panel. Hovering on this banner will show you the list of all the unshown locations.
Note: this will only be visible to data analysts, not the dashboard viewers.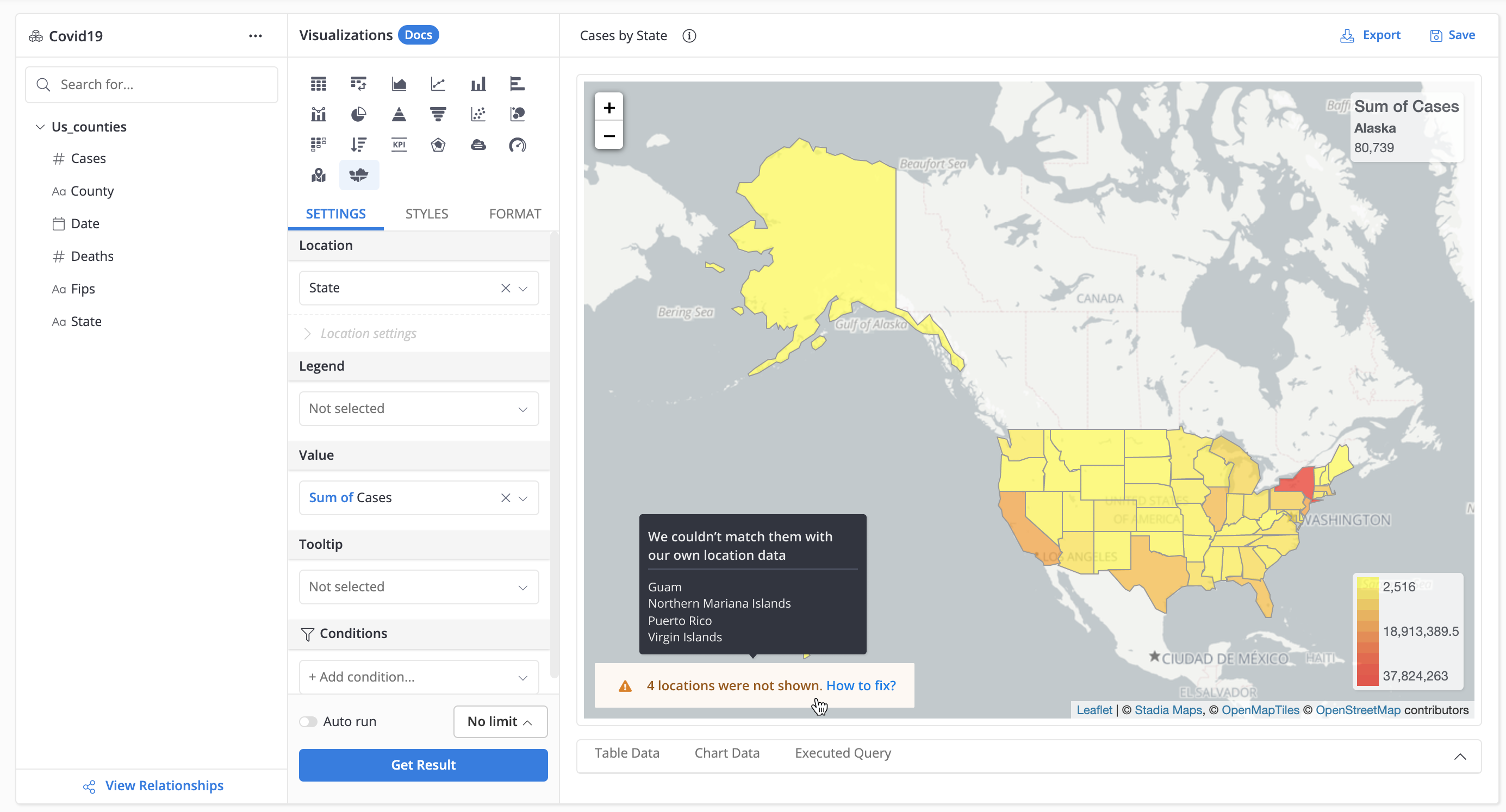 There are three main reasons Holistics might not be able to recognize the data:
Holistics Geojson library has not supported your location data. See Supported location formats.
Your data may contain typos, or written in a different way from its name in our database. See Supported location formats.
The location might exist in multiple places, thus Holistics cannot detect the right location to display on the map (i.e "Georgia" is a country in Euroasia but also a state of the United States)
How to solve these problems?
If your problem is (1), please fill in this request form so we can add the location data to our roadmap.
If your problem is (2), please refer to Holistics' Supported location formats and correct your data before importing to Holistics.
If your problem is (3), please see the following section for more details.
How to improve map precision
To help Holistics recognize your location data better, the first step is to choose a location type for the data.
For demonstration purposes, we will use a sample dataset of COVID-19 cases in the US for this example. Learn more about the dataset and download it here.
Without any configuration, our initial map (from this dataset) will look like this:
As you can see, all the states in the US are colored except Georgia. In this case, Holistics recognizes Georgia as a country in Euroasia (to the south of Russia) rather than a state of the US.
In order to fix this, we should "tell" Holistics that Georgia is actually a state rather than a country. In particular, after we drag our location field State onto Location, click on Show Location Settings. In the Location type, select State/ Province.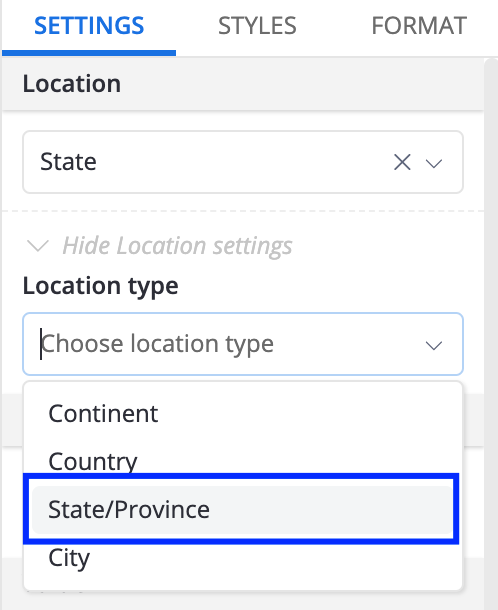 The Location settings will expand automatically, showing more options for you to fill in. Since we choose State/ Province in our Location type, Holistics will show the rest of the geographical types: Country, State/Province. These fields will help you narrow down the exact region of the location data, so Holistics can precisely detect and display it on the map.
Holistics support 4 location types in the following hierarchical order: Continent, Country, State/Province and City.
Generally, by determining the location type of the location, you will have solved the problem by now. In some rare cases, you will need to further define a more specific geographical constraint for your location.
In our example, we will not need to configure anything further. Let's click Get Results and see what we get.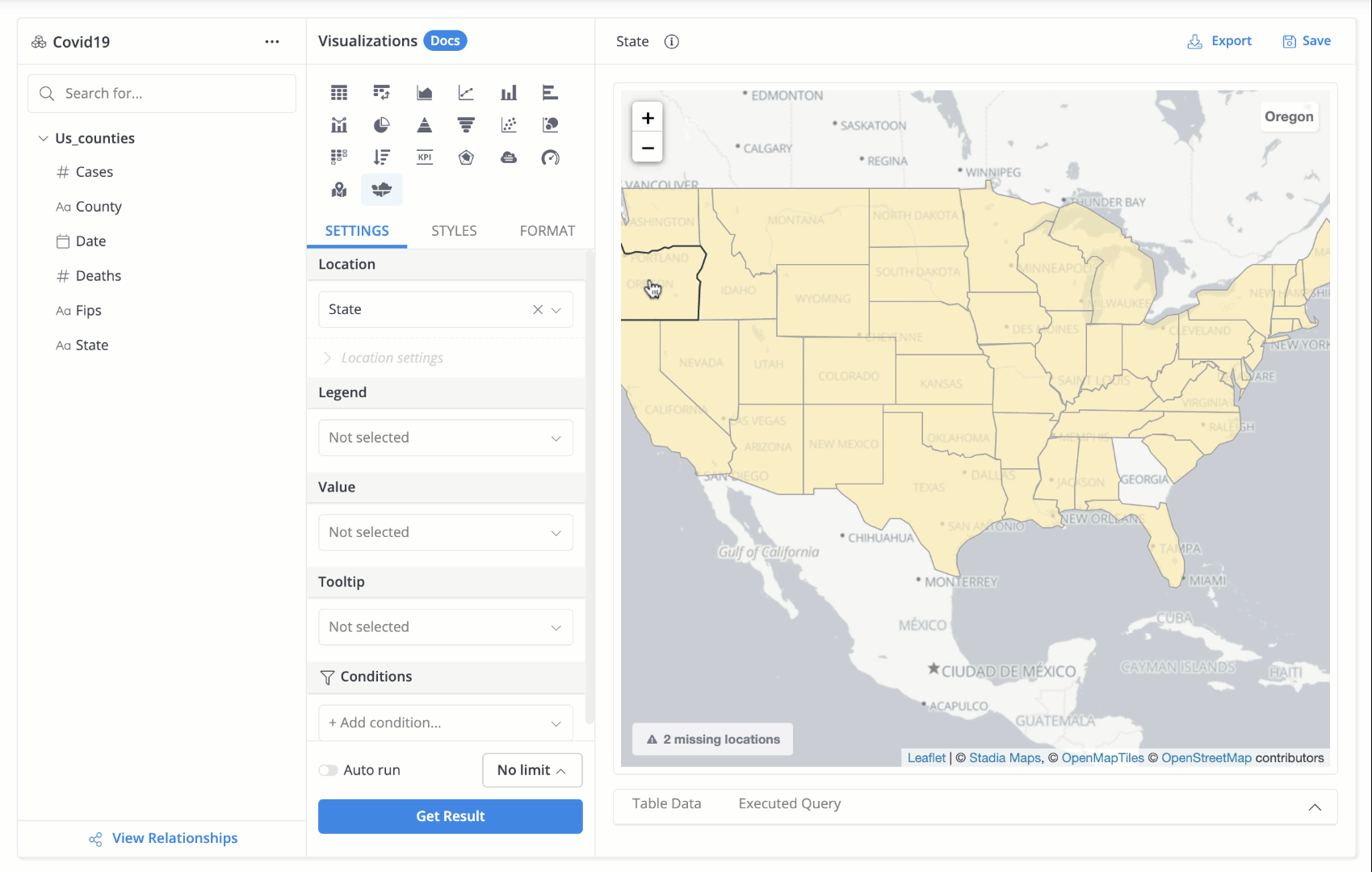 Awesome! Our Georgia state is back! Now we can start adding fields to add more meaning to the map.
Narrow down the location of your data
Since a location can exist in multiple places, we need to narrow down its boundary by adding additional, related location information.
You can do so by telling Holistics which fields to refer to for that information. Since we have already succeeded in displaying the US map in the previous section, we will not need to specify the additional location here.
However, in some very rare cases when Holistics could not recognize your location even if you have assigned a geographical role to it, you might want to use this method.
In this example, we might want to specify the Continent and Country of our location data. If we had fields that contain continent (North America) and country (United States) data in our dataset, we'd only need to drag them onto the corresponding places.
—
If the above solutions did not work for you, let us know at [email protected]!