Get Your Answers Efficiently With Holistics Concurrent Workers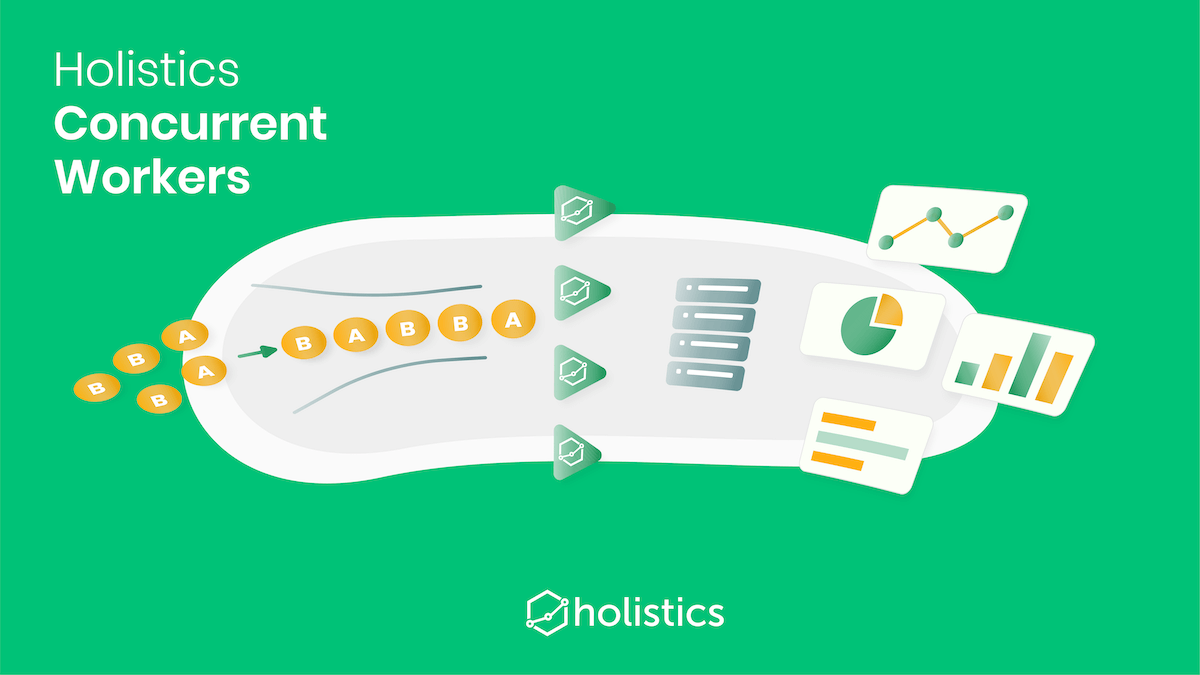 'A queuing system makes everything faster!'
What is a Concurrent Worker?
Holistics Workers control the number of concurrent database queries that is sent to the customer database at any point in time. It is a job-queueing function that allows the smooth process of SQL queries to be sent to your database, one at a time. In return, visualization can be done on the Holistics platform, based on the queries. The Concurrent Workers will thus serve as mediators between the queries and the database.
How does Holistics Concurrent Workers work?
Each customer should have their own job queue that shouldn't affect each other, and each job queue can have different queue size (i.e customer A have 5 slots that can run 5 concurrent jobs, customer B has 3 slots that can run 3 concurrent slots). Therefore, the more concurrent workers one has, the higher volume of concurrent queries one can run. Easing up congestion is as easy as adding more Concurrent Workers!
Why do you need Holistics Concurrent Workers?
In our platform, whenever someone submits a request, we construct a SQL query that sends to our customers' database, wait for the results, and visualize the charts based on it.
Since the analytics SQL query takes time (a few seconds to minutes), it's not a good idea to use synchronous web requests, thus a background job queue system is needed to handle this - Holistics Concurrent Worker.
If you'd like to learn more about the technical details, you can read more about it here (link).
Why are Concurrent Workers important?
Imagine an extreme scenarios where 20 users access 100 charts at the same time. Without any control from the Holistics application, this will send 2000 database queries to the customers' database. If it's a production database, the sudden high incoming volume may crash it.
Holistics workers control the number of concurrent database queries that Holistics will send at any point in time to our customer database. If we set it the customer to have only 5 workers, that there's no more than 5 concurrent queries running at any point in time, while keeping the other queries in a common queue.
Therefore, having more Concurrent Workers increases your querying process for both you and your customers. As your business scales, it is also far more cost effective to be charged based on Concurrent Workers compared to the number of visualizations processed.
Can you give me an analogy?
Imagine you're a tourist who just landed in your favorite country. There are many people like you who are also visiting this country. If there aren't any controls, it is likely that there will be chaos and the airport would shut down.
Custom officers are therefore in place to properly permit travellers to enter the country, ensuring a smooth process. The more custom officers available, the faster the travellers can be permitted into the country. In this case, custom officers are Holistics Concurrent Workers while the travellers are the queries being sent to the database.

Use-Case: Embedded Analytics
Our Holistics Embedded Analytics feature allows you to embed your dashboard onto your webpage. It is as simple as embedding a YouTube video with compact iframes (link). With an embedded dashboard, you can now empower your customers with the data analytics.
As you scale your business, you will realize that you have more customers wanting to look into the dashboards. This inevitably slows down the querying process as multiple SQL queries are sent to your database at the same time. Concurrent Workers come in to ensure that the process of querying these visualization becomes a smooth process for all your customers. The more Concurrent Workers you have, the faster your customers get their results they need.
The minimum Concurrent Workers required for our Embedded Analytics featured is 3. You will be able to add more Concurrent Workers as you scale your business. If you wish to find out more about Embedded Analytics, feel free to head to our documentation page (link). Otherwise, watch our short 4mins video guide:
Holistics allows you to query faster!
Sign up for a free trial to start trying out our Embedded Analytics feature!
*Holistics believe in empowering data-driven teams. With the right tool, every individual can contribute in ways unimaginable to their team. We empower you by making our software flexible, intuitive and user-friendly.
And we happen to be able to automate the data processes for you so you don't have to do the mundane tasks over and over again.
Sign up for more tips on using Holistics
Tips and tricks for getting the most out of the platform!
No spam, ever. We respect your email privacy. Unsubscribe anytime.
From SQL Queries To Beautiful Charts
Connect to your database and build beautiful charts with Holistics BI
Learn More
"Holistics is the solution to the increasingly many and complex data requests from the operational teams"
---
Tang Yee Jie
Senior Data Analyst, Grab