Looker VS Tableau: A Comparative Analysis to Help You Pick the Right Tool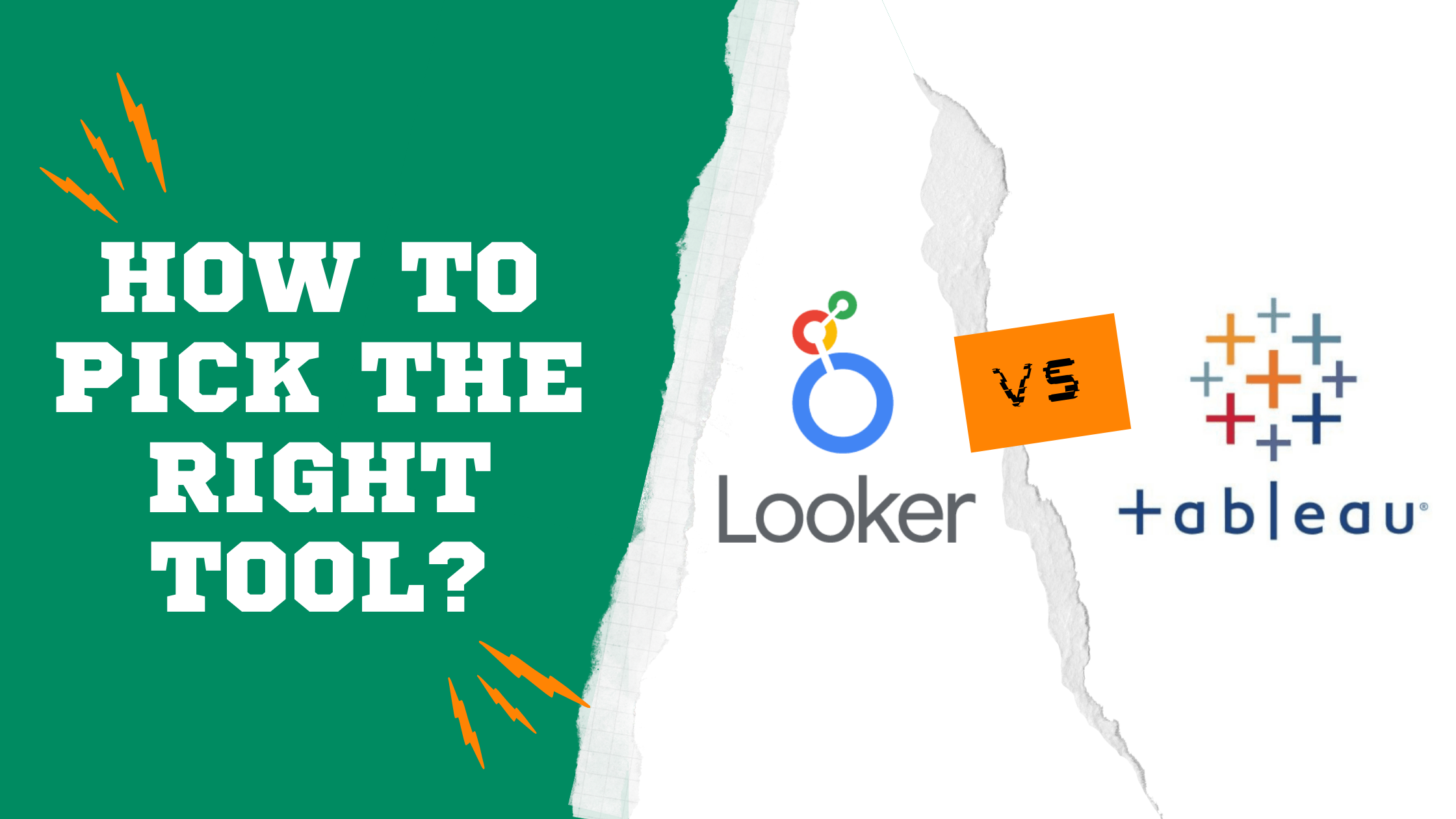 Business intelligence (BI) tools are part and parcel of a successful data strategy for any organization, be it SMEs or enterprises. As more and more consumer data is collected from various online and offline touchpoints, it is crucial for companies to have a tool which empowers them to unify all this data for a comprehensive view of customers. Data analysts would then use this unified data to generate insights that hopefully translate to a competitive edge for the company.
If you are reading this article, you have probably heard of Tableau and Looker and are looking for a most suitable BI candidate for your organization.
If you are eager to understand which one of these two tools will serve your purpose better, continue reading as we analyze how Looker is different from Tableau and compare them in  different key aspects that allow you to make decisions with more confidence.
You can also check out Power BI Vs Tableau and Analysis of Top-5 Self-service BI Tools for analysis and comparisons of major BI tools in the market.
1) Hosting & Deployment
When we look at Looker vs Tableau, one of the main factors to consider is the implementation and deployment of the platform. Looker is a fully managed web platform hosted on the cloud. This means that the Looker instance is fully hosted by Looker and this greatly reduces the effort required to install, configure, and maintain Looker applications. However, Looker also provides an option for users to deploy and host Looker instances on their own servers. You should take note that regardless of where your data is hosted, the data always remains in the database and is not copied to the Looker instance.
Similar to Looker, Tableau also offers a fully hosted solution called Tableau Online. In addition, you can install a Tableau instance on a cloud service such as AWS, Google Cloud, or Microsoft Azure. Of course, hosting Tableau on-prem for Windows, Linux and Mac is another option that you can consider.
2) Pricing & Cost
Regarding Looker vs Tableau pricing, these two platforms take quite different approaches.
Looker offers tailored pricing based on the organization's requirements that start from USD 3k and could go as high as USD 5k for 10 users per month.
Tableau has different pricing types for organizations: Tableau Creator, Tableau Explorer and Tableau Viewer. Tableau Creator has the highest rights and capabilities and it costs USD 70 per user per month. Tableau Creator subscription comes with Tableau Desktop, Tableau Prep Builder, and one Creator license for Tableau Server. Take note that every Tableau deployment requires at least one Creator.
So, the price of Looker and Tableau can be high or low depending on the organization's requirements and the number of users who will be using the platform and their roles.
3) Data Source Integration
You need a SQL database to integrate your data source with Looker. This means that whatever format your raw data is in, you need to transfer it to a SQL database and only then Looker will be able to read the data. Currently Looker supports more than 50 databases including Google BigQuery, Amazon Redshift and Snowflake.
Tableau, on the other hand, does not necessarily require users to have a SQL database for it to ingest data. Tableau supports connectors such as Jason, PDF, Google Ads, Google Analytics and Adobe Analytics.
4) Data Modelling
Data modelling in Looker is done via  Looker's own modelling language called LookML. LookML enables technical users to define dimensions, metrics, aggregates and relationships. When a user starts creating reports, Looker then constructs the SQL based on the defined LookML and queries the database. The results then  appear as tables, charts, graphs, etc.
In previous versions of Tableau, there was only one physical layer where you could specify joins and unions, and the table created via the physical layer was a single flattened table. In the 2020.2 version of Tableau and later, there is a semantic data model on top of the physical data model where users can add multiple tables and define relationships there. This is similar to Looker's LookML.
5) Predictive Analytics
Predictive analytics is one of the advanced use cases that normally organizations that have reached a certain level of data maturity will look into.
Looker offers various data tools that can help you get the most of your analysis including ML models that can be deployed in your dataset. For instance, There are BigQuery ML models available within the Looker Marketplace, including classification, regression, and time series forecasting models, among others.
Tableau also offers predictive modeling functions using linear regression to build predictive models and generate predictions about your data.
6) Data Governance
Data governance is one of the key elements of business intelligence and it is a necessity for modern analytics workflows. Data governance comprises securing data, organizing data, defining access permissions, and determining the way different users within your organization use data.
Both Tableau and Looker are compliant with General Data Protection Regulation (GDPR). However, they have different approaches and methods to fulfil the governance requirements.
6.1 Looker
Looker's approach to data governance expands across 4 main areas:
1 - Cloud Security: Looker uses established public cloud hosting providers to augment Looker's security program with additional security and availability operational controls.
Cloud security has 4 main pillars in Looker's data governance:
Cloud infrastructure
Monitoring and authentication
Data security encryption
2 - Product Security: Looker ensures that the code quality for the Looker application is developed according to industry-wide best practices for software development, and is regularly tested for vulnerabilities. Product security covers various dimensions including:
Code development
Code quality tests
Security due diligence of third-party service providers
Regular third-party penetration testing
3 - Corporate Security: Looker ensures that Looker's ancillary applications, systems, and networks are securely configured and monitored. Corporate security in Looker has 3 parts:
Personnel and third-parties
Incident response
Looker premises and hardware
4 - Physical Security: Looker is responsible for monitoring the Looker corporate facilities, and ensuring that offices and hardware are both protected.

6.2  Tableau
Here are the 3 types of governance offered by Tableau:
1 - Centralized: IT or another authority owns data access and produces data sources and dashboards for business consumption.
2 - Delegated: New roles are introduced outside of IT or a central authority. Site Administrators and Data Stewards are identified and may have direct access to sources of data.
3 - Self-governing: Certified content and data sources are available, and ad-hoc content is being created regularly by Creators and Explorers.
The following are the areas that Tableau focuses for data governance:
Data source management
Data quality
Enrichment and preparation
Data security
Metadata management
Monitoring and management
Tableau vs Looker: Summary Comparison Table
The table below summarize the features comparison between Tableau and Looker
Conclusion
When choosing between Looker vs Tableau, the key factors to consider are price, deployment, data source integrations, and data modelling among others. And to make an informed decision, you need to evaluate each factor based on the specific use cases that your organization plans to execute. One of the best ways to evaluate a BI platform is to sign up for a free trial and test out all the capabilities and features that are important to your use cases.
What's happening in the BI world?
Join 15k+ people to get insights from BI practitioners around the globe. In your inbox. Every week. Learn more
No spam, ever. We respect your email privacy. Unsubscribe anytime.
Confused about the complex analytics landscape?
Check out this book to bring yourself up to speed on the ins-and-outs of a contemporary analytics stack.
Download Book
"I'm shocked to be telling you this next sentence: I read a free ebook from a company and actually loved it." - Data Engineer