Holistics July 2021 Product Updates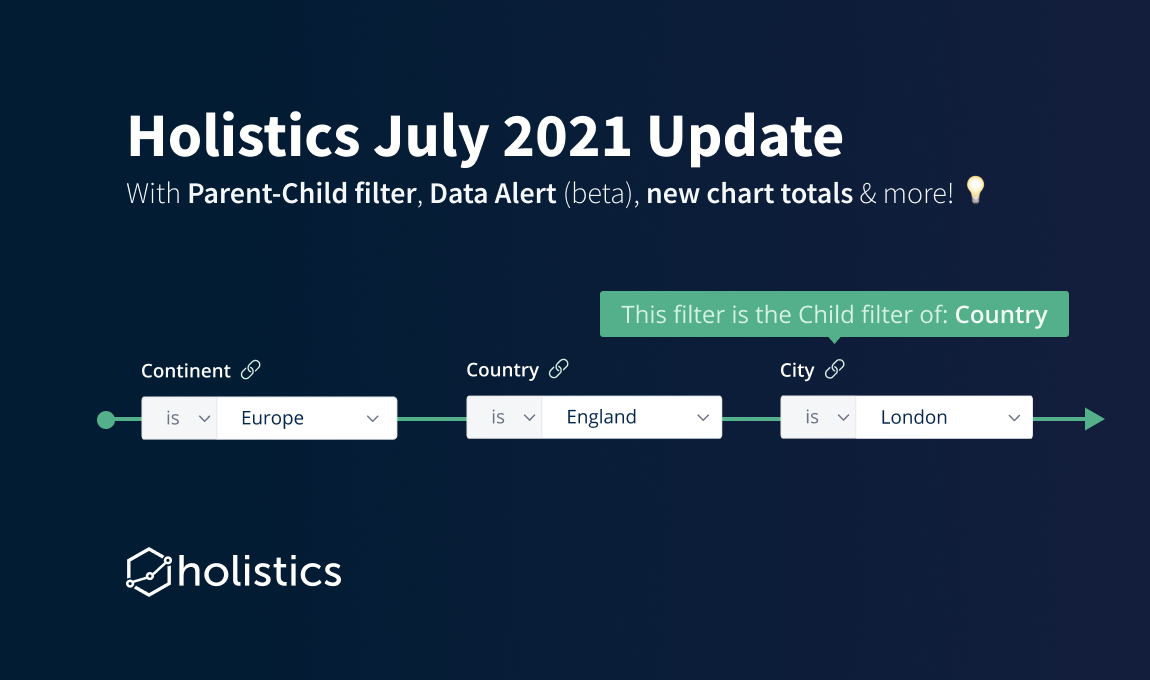 Hola friends, welcome to July's updates!
Last month, we have made small changes to our existing reporting features to improve your convenience and correctness of the data.
Here's the full list of updates in July:
Parent-child filter
Data Alert (closed beta)
New chart totals
New pivot totals
EL Deprecation
Parent-child filter
Reduce the time your dashboard viewers have to spend on selecting the right filters' values with parent-child filter!
This feature limits the suggested values viewers can choose from in a filter (child) based on the selected values in other filters (parent).
Follow our 2-step instruction to enable this feature!
Data Alert (Closed beta)
No need to manually monitor your dashboard everyday.
With Data Alert, you can set some conditions for your report data. If those conditions are met, Holistics will send you an automated alert via Email or Slack.
Here's how Data Alert works. Contact us to beta test this feature!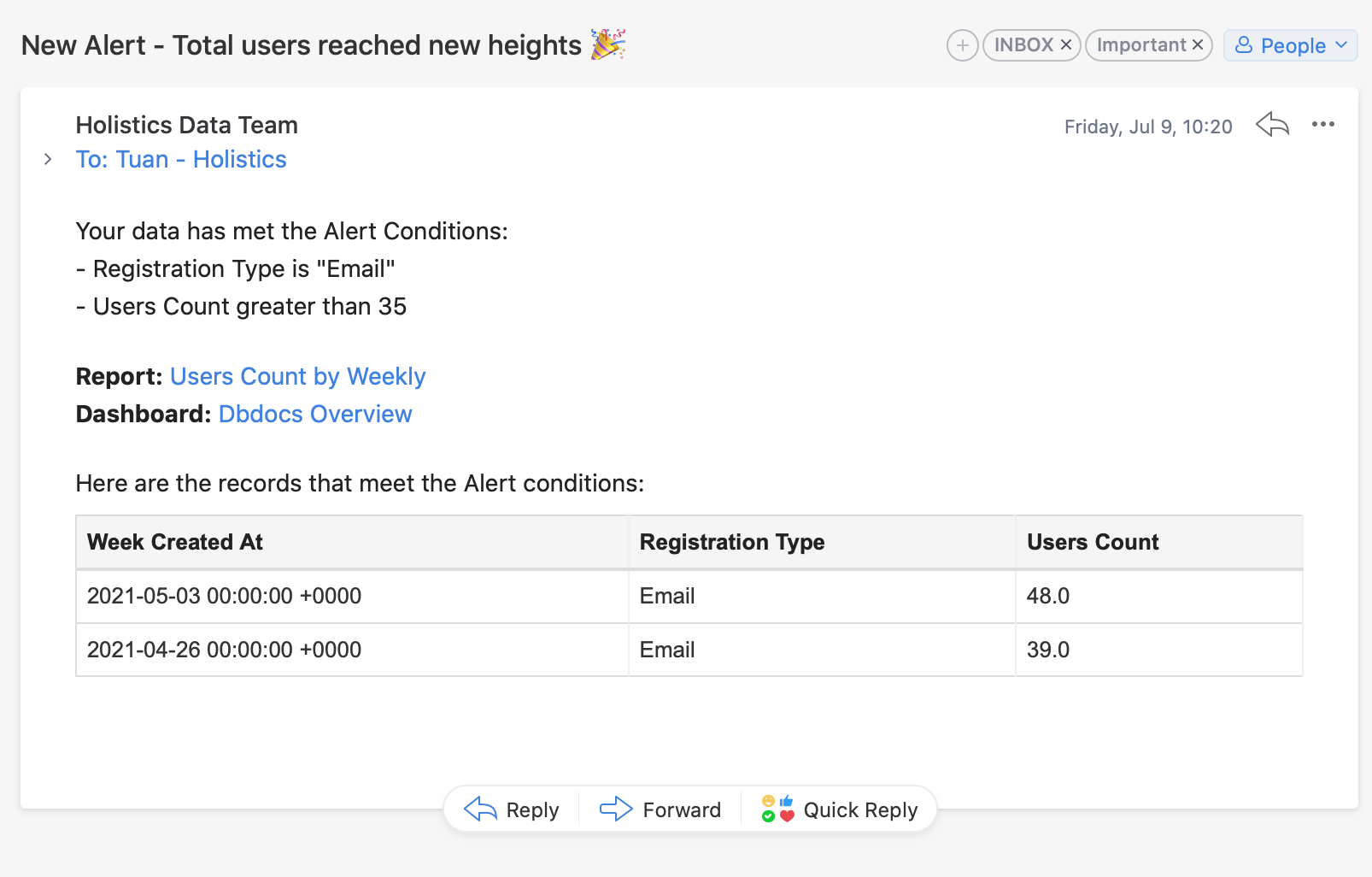 New Chart totals
In the past, our Totals on Line/Column/Bar/Area charts will sum all measures of all Y-axes, which can lead to unexpected results.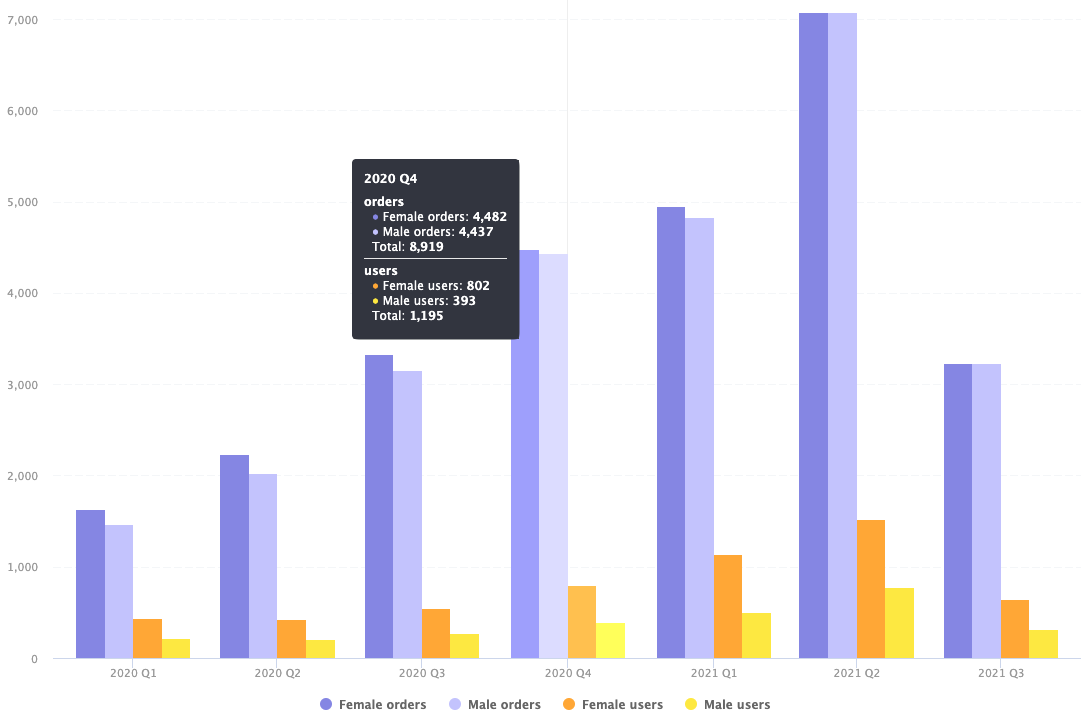 From now on, our Chart Totals only work if your measures (in Y-axes) are broken down by Legend; and they will be calculated per measures.
New Pivot totals (Beta version)
This month, we are glad to announce that our beta version for new Pivot Totals is now available and ready for testing. From now on, Pivot Totals will be correctly re-calculated, and do not sum all non-addictive values anymore!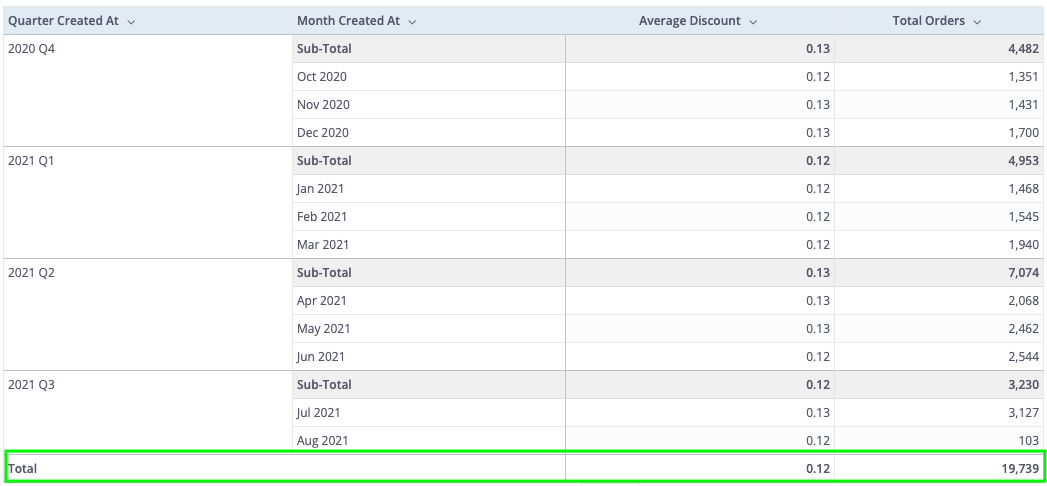 Feel free to drop us a message to [email protected] if you want to become our beta testers!
EL Deprecation
For existing customers, we have decided to stop supporting any new version of importing data from Google Analytics, Facebook Ads, and Pipedrive since December 2021.
New customers that signed up after December 2021 will not see the above sources when importing data to Holistics.
Check out our documentation for more info!
—
For more improvements this month, please visit our Release note.
Upcoming
Reassign Resource Owner
Multiple sorting
Stay updated!
If you have any feedback or feature request, don't hesitate to contact us at [email protected]! We read every single email!
What's happening in the BI world?
Join 15k+ people to get insights from BI practitioners around the globe. In your inbox. Every week. Learn more
No spam, ever. We respect your email privacy. Unsubscribe anytime.
Confused about the complex analytics landscape?
Check out this book to bring yourself up to speed on the ins-and-outs of a contemporary analytics stack.
Download Book
"I'm shocked to be telling you this next sentence: I read a free ebook from a company and actually loved it." - Data Engineer